Laurel County, KY - Sheriff John Root is reporting that LSO Deputies were dispatched by Laurel 911 to a shooting complaint off Locust Grove Road at approximately 11:10 AM Thursday morning.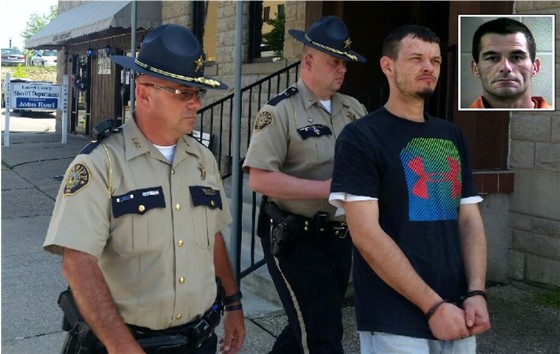 Detective Charlie Loomis arrested Landon Collins age 28 of London on Thursday afternoon May 26, 2016 at approximately 4:00 PM regarding the earlier double shooting incident which occurred off Locust Grove Road, approximately 10 miles west of London that left two victims wounded which occurred off Locust Grove Road, approximately 10 miles west of London.
When deputies arrived at the scene, they found 2 male victims with gunshot wounds inside the residence.
Ambulance Inc. of Laurel County removed the two victims from the scene and transported them by ground to UK hospital Lexington for treatment of severe injuries.
As deputies and detectives continued their investigation they learned that the two victims drove a white pickup to the residence to intervene regarding a domestic issue involving Melissa Boggs, one of the victim's daughter who was the lawful resident of the mobile home.
Once inside the mobile home, an altercation occurred between the 2 victims and Landon Collins, an occupant in the mobile home, both victims were shot. Landon Collins, the occupant inside the trailer, then left the residence and was met by deputies near the roadway where he was detained without incident.
The two victims are identified as:
Melissa Boggs's father, Ralph T. Boggs age 57 Of Combs Cir., London (shot in the head) and his friend, Garrett Turner age 57 also of Combs Cir., London (shot in the stomach). A 9mm pistol was recovered in the front yard.
Landon Collins was charged with two counts of criminal attempt to commit murder, possession of a handgun by a convicted felon, and receiving stolen property (a reported stolen vehicle from Lexington, a silver colored Lexus stolen from Lexington on 5-16-16, was recovered in the front yard of the residence). An additional suspect who left the scene before deputies arrived was then being sought regarding the stolen vehicle.
At approximately 5:15 PM, deputies were notified by a reporter with WYMT who was near the scene of the earlier double shooting that the other suspect that deputies were seeking regarding the reported stolen car had came to the scene and told the reporter he wanted to turn himself in.
Deputy Craig Sutton responded to the scene, conducted an investigation and arrested the individual who was identified as Richard Bowling age 37 of a Half Way House in Lexington charging him with Receiving Stolen Property. He was also a wanted fugitive from Indiana for Felony Theft by the Floyd County sheriff's office in New Albany, Indiana.
Both individuals were lodged in the Laurel County Detention Center.
Laurel Sheriff's office personnel assisting at the scene included:
Sheriff John Root Maj. Rodney Van Zant, Capt. Chuck Johnson, Lieut. Greg Poynter, Sgt. Brett Reeves , Sgt. Phil Barnard, Deputy Craig Sutton, Deputy John Inman, Detective Jason Back, Detective James Sizemore, Deputy Gilbert Acciardo, Cpl. Jack Caudill, Bailiff Robert Reed, and CSO Tony Anders.
Detective Charlie Loomis continues to investigate.
Photo of Landon Collins being escorted to the detention facility by LSO.
Inset photo of Richard Bowling courtesy of the Laurel County Detention Center.