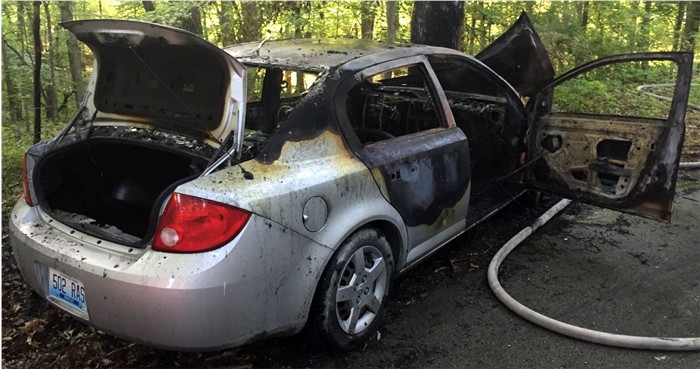 Laurel County, KY - Sheriff John Root is reporting that: Deputy Kyle Gray investigated a single vehicle injury dui involved traffic crash on Barron Road near the Laurel- Knox County line in southern Laurel County on Tuesday evening May 24, 2016 at approximately 6:45 PM.
The investigating deputy reports that apparently a car ran off the roadway and struck a tree and caught on fire. The driver was identified as Brian Phipps age 45 of North KY 233, Gray, Kentucky – this subject was injured and transported by Ambulance Inc. of Laurel County to a local hospital for treatment of possible injuries. In addition, the investigating deputy determined that this driver was under the influence.
Brian Phipps was charged with operating a motor vehicle under the influence and cited to Laurel District Court because he was taken to a hospital for treatment.
The passenger in the vehicle was identified as Jerry Nolan age 37 of N. Kentucky 233, Gray, Kentucky – this subject received possible injuries from the crash.
Assisting at the scene of the crash was Ambulance Inc. of Laurel County and Campground Volunteer Fire Department.
Photo of crash site provided by Deputy Kyle Gray.