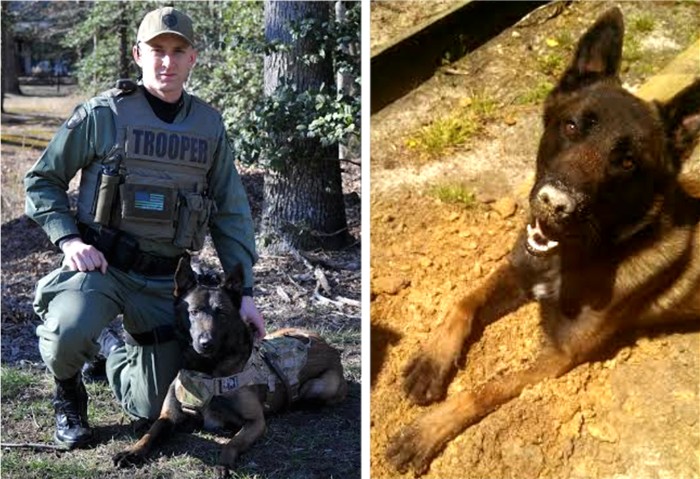 (PIKESVILLE, MD) — Maryland State Police K9 'Adama' will receive a bullet and stab protective vest thanks to a charitable donation from non-profit organization Vested Interest in K9s, Inc.
K9 Adama's vest is sponsored by Brenda Larsen of Pasadena, MD and will be embroidered with the sentiment "This gift of protection provided by the Larsen's." Delivery is expected within eight to ten weeks.
'Adama's' police partner is Trooper First Class Daniel Tebbens, assigned to the Special Tactical Assault Team Element, or STATE Team, the Maryland State Police SWAT Team. "Adama is a Malinois, born in the Czech Republic in July 2012," TFC Tebbens said. "He was purchased by a vender in PA and then purchased by the Maryland State Police in June 2013. We began training in patrol work later that year. In the two and a half years we have been patrolling together, Adama has assisted in making numerous arrests. In 2015, Adama and I joined the STATE Team. Adama is the first K9 to be assigned to the STATE team in 20 years. He loves working with the other team members doing search warrants and assisting at barricade situations. Adama loves doing his job in every way."
"We appreciate the generosity of people like the Larsens and those at Vested Interest in K9s Inc., who give their time and resources to increase the safety for these important partners in police work," Maryland State Police 1/Sgt. Joe Catalano, commander of the Maryland State Police K9 Division. "Our dogs are integral to our success and our increased ability to protect this valuable asset helps ensure we are able to continue to effectively use our K9 resources in our work to keep Marylanders safe."
Vested Interest in K9s, Inc. is a 501c (3) charity located in East Taunton, MA whose mission is to provide bullet and stab protective vests and other assistance to dogs of law enforcement and related agencies throughout the United States. The non-profit was established in 2009 to assist law enforcement agencies with this potentially lifesaving body armor for their four-legged K9 officers. Since its inception, Vested Interest in K9s, Inc. provided over 1,700 protective vests, in 49 states, through private and corporate donations, at a cost of over 1.6 million dollars. All vests are custom made in the USA by Armor Express in Central Lake, MI.
The program is open to dogs actively employed in the U.S. with law enforcement or related agencies who are certified and at least 20 months of age. New K9 graduates, as well as K9s with expired vests, are eligible to participate.
The donation to provide one protective vest for a law enforcement K9 is $1,050. Each vest has a value between $1,795 – $2,234, a five-year warranty and an average weight of 4-5 lbs. There are an estimated 30,000 law enforcement K9s throughout the United States. For more information or to learn about volunteer opportunities, please call 508-824-6978. Vested Interest in K9s, Inc. provides information, lists events, and accepts tax-deductible donations of any denomination at www.vik9s.org or mailed to P.O. Box 9 East Taunton, MA 02718.