London, KY - On Friday, June 17, 2016 Trooper Jarrod Smith from the Kentucky State Police Post 11, London was honored at a state wide award ceremony held in Lexington. Trooper Smith was awarded the "Kentucky State Police Lifesaving Medal".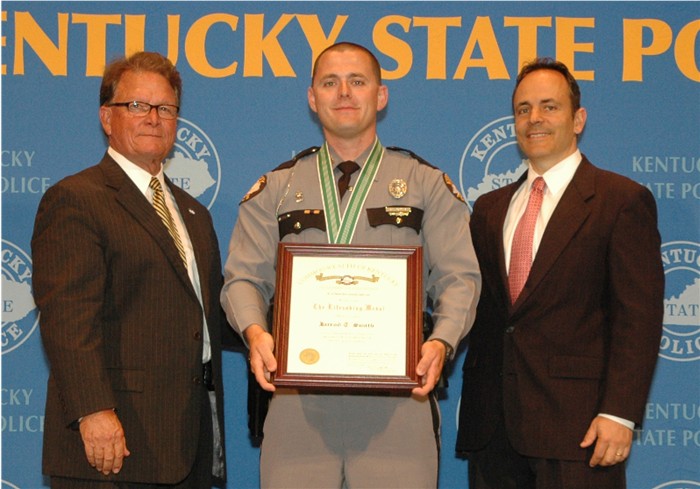 Pictured left to right are: KSP Commissioner Richard W. Sanders, Trooper Jarrod Smith and Govenor Matt Bevin.
Details of the incident are as follows:
On July 15, 2015 at approximately 1:47 am, Clay County 911 received a complaint of a man stuck in floodwaters at the bridge near Goose Rock School. Local fire departments and the Clay County EMS had responded to the scene and were attempting to rescue the victim. Trooper Jarrod Smith, Unit 621, was monitoring the radio traffic regarding the rescue attempt and responded to assist if possible.
Upon his arrival, Trooper Smith was told three members of the fire department were in a small boat attempting to rescue the victim. Other members of the fire department on the river bank were holding a rope which was attached to the boat. Trooper Smith assisted with holding the rope.
Once the victim was located and placed onboard the boat, the firefighters signaled for the boat to be pulled in. During this process, the boat capsized and the victim and firefighters were swept away in the floodwaters. Trooper Jarrod Smith and Chief Jason Nolan located the victims in the water about forty to fifty feet downstream holding onto tree limbs. Trooper Smith and Chief Nolan secured a rope around their waists and entered the water in an attempt to rescue the firefighters and the victim. Upon reaching their position, Trooper Smith secured his safety rope around the victim and swam alongside him holding his head above water while he was being pulled ashore.
Once on shore, the victim, identified as George Sizemore, was transported to the Manchester Memorial Hospital and later transferred to the University of Kentucky Medical Center. He was listed in critical condition.
George Sizemore recovered from the incident and thanked Trooper Smith for saving his life. Without the quick and decisive actions of Trooper Jarrod Smith, Mr. Sizemore would have surely perished.
Trooper Jarrod Smith's actions during this incident clearly went above and beyond the call of duty. His actions were made without delay and without regard for his own safety.
Captain Todd Dalton stated, "Trooper Smith is indicative of the sense of service and dedication that defines our agency."