RICHMOND, Ky. (June 23, 2016) – On Friday, June 17, the Kentucky State Police held their annual awards ceremony at the Lexington Convention Center. The 2015 Trooper of the Year, Detective of the Year, Commercial Vehicle Enforcement Officer of the Year, Facilities Security Officer of the Year and other awards for acts of bravery, life-saving, professionalism and dedication to duty were presented. Two troopers from the KSP Post 7 in Richmond were honored at the ceremony.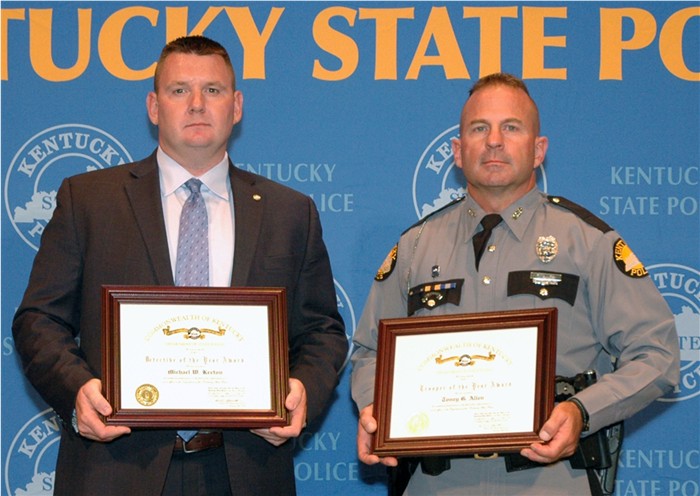 Left: Detective Michael Keeton Right: Trooper Toney Allen
Trooper Toney Allen was Post 7's Trooper of the Year. During 2015, Tpr. Allen issued 1,240 total citations, including 336 seatbelt citations, 121 speeding citations, 17 child restraint citations, and 150 courtesy notices. Trooper Allen made 147 criminal arrest including 11 for driving under the influence. He also responded to 399 complaints, worked 22 traffic collisions, while investigating 22 criminal cases. Tpr. Allen serves the community as a baseball coach, a mentor to troubled youth in a local school, and volunteers at various community events. Tpr. Allen is a resident of Madison county and has served the public as a law enforcement officer for the past 21 years.
Detective Michael Keeton was Post 7's Detective of the Year. During 2015, Det. Keeton answered 75 complaints, opened 12 criminal cases, and made 116 criminal arrest. He was recognized for solving a broad variety of cases that included embezzlement, sex abuse, and murder. His attention to detail, expertise, and work ethic is vital to the safety of our community. Det. Keeton is a resident of Madison County, a prior Nicholasville Police Officer, a graduate of Eastern Kentucky University, and a 1998 graduate of Morgan County High School.