PIKEVILLE, Ky.(Thursday, June 30, 2016) – Forty-one Kentucky high school students from 16 counties across the region recently completed the annual Professional Education Preparation Program (PEPP) at the University of Pikeville-Kentucky College of Osteopathic Medicine (KYCOM).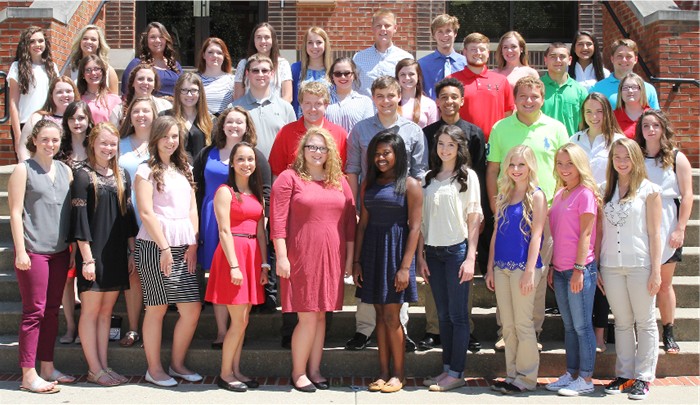 High school students from across the region completed a two-week residential program at the University of Pikeville that gave them the opportunity to learn about the medical profession.
The two-week residential program provides high school students with an opportunity to learn about the medical profession. More than 850 students have participated in the university's program since its inception in 1999.
Students spent two weeks on campus studying anatomy, histology, physiology, biochemistry, pathology and pharmacology of the 10 major human organ systems through presentations provided by KYCOM faculty and second-year medical students. PEPP students participated in gross anatomy and functional anatomy labs and engaged in clinical observations at Pikeville Medical Center.
UPIKE's PEPP program is designed to provide a better understanding of rural medicine, what it takes to get into a medical education program and the dedication needed to succeed in the medical profession. It also helps to build confidence and self-esteem and provides students with the encouragement to seek challenging course work as they prepare for higher education.
Participants in the program included: Pike County: Zane Akers of Pikeville High School; Ashley Belcher, Zachary Chaney and Katie Ratliff of East Ridge High School; and Jacob Beverly, Lauren Compton, Toby Hall, Kristen Hicks, McKenzie Hopkins, Ariel Hopkins, Shelby Jones, McKenzi Maynard, Grace Tackett and Brittany Wallace of Shelby Valley High School. Barren County: Ethan Kiteck of Barren County High School. Clay County: Johnny Byrd of Clay County High School. Fayette County: Trace Williams of STEAM Academy. Greenup County: Hannah Hermann and Kaitlin Price of Greenup County High School. Jefferson County: Anna Callihan of Highlands Latin School and Amanda Dreisbach of Louisville Male High School. Johnson County: Nathaniel Bailey, Taylor Bussey, Harlee Pennington and Rebecca Wells of Paintsville High School. Knott County: Adam Hotelling of Knott County Central High School. Laurel County: Michael Morton of Corbin High School. Lawrence County: Jillian Adams, Elizabeth Ball, Caleb Curry and Jodi Perkins of Lawrence County High School. Madison County: Irene Beeman and Maison Nichols of Madison Central High School. Magoffin County: Abby Collins and Shawnda Howard of Magoffin County High School. Martin County: Kellyn Newsome of Sheldon Clark High School. Perry County: Katie Campbell and Haley Combs of Perry County High School. Rockcastle County: Abigail Bray and Arie-Anna Lawson of Rockcastle County High School. Warren County: Camille Smart of Bowling Green High School.
Medicine in the Mountains … Keeping the Promise: Since its inception in 1997, the University of Pikeville-Kentucky College of Osteopathic Medicine has played an important role in preparing physicians to serve the healthcare needs of underserved populations in Kentucky and other Appalachian regions. Of the more than 1,000 graduates since the first class of physicians in 2001, 70 percent of these physicians are serving in primary care.
-UPIKE-