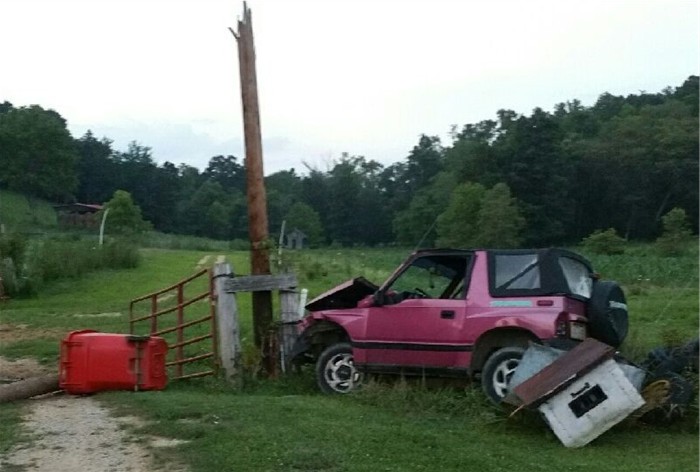 Laurel County, KY - Sheriff John Root is reporting that: Sgt. Robbie Grimes along with Deputy Brandon Broughton were dispatched to a complaint of an out-of-control male subject on Patton Spur Road, approximately 6 miles north of London on Tuesday night July 26, 2016 at approximately 9:40 PM.
Deputies learned while en route to the scene that a purple colored Chevrolet tracker had apparently ran off the road and struck a utility pole and that a male subject involved was allegedly running through the area out-of-control.
When deputies arrived at the scene they observed a male subject spraying himself with a water hose in an area resident's yard and stating he had been stung by several bees.
Deputies learned through investigation that when this subject's vehicle struck the utility pole, it disturbed a hive of yellow jacket bees and that the bees allegedly had began stinging both the driver and his female passenger causing them to flee through the neighborhood, chased by the bees.
In addition, deputies determined that both the driver and passenger were under the influence – the passenger stated that she and the driver had taken several drugs including Suboxone, Neurotin, and Klonopin.
The driver and passenger were both transported to St. Joseph Hospital London for treatment of injuries sustained in the collision with the utility pole and numerous bee stings.
The two individuals were cited to Laurel District Court since the two individuals were admitted to the hospital.
They are identified as the driver: Noah Elkins age 36 of Bethel Hill Rd., East Bernstadt charged with operating a motor vehicle under the influence – first offense and numerous other traffic violations.
The passenger: Priscilla Simpson age 35 of Charles Givin lane, Dry Ridge Kentucky charged with public intoxication – control substances.
Ambulance Inc. assisted deputies at the scene.
Photo of crash site provided by Sgt. Robbie Grimes.