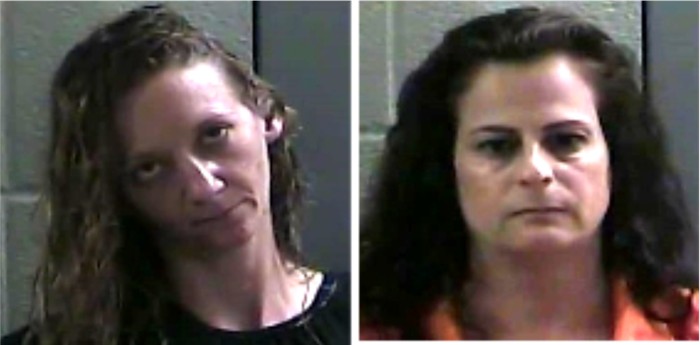 Laurel County, KY - Sheriff John Root is reporting that: Sgt. Larry Parrott along with Deputy Tommy Houston arrested Jamie Allen age 31 of Nuway Trail, London on Saturday night July 30, 2016 at approximately 10:19 PM.
The arrest occurred off Langnau road, approximately 10 miles east of London at a residence after Sgt. Parrott developed information on this subject's whereabouts regarding this subject fleeing her boyfriend's residence on Sally's branch Road early Saturday morning and while fleeing in her car, she tried to run over Sgt. Parrott as she fled at a high rate of speed with her five-year-old child in the vehicle.
When deputies located this subject at the residence on Langnua road, she still had her 5 year old son.
Jamie Allen pulled a knife on Sgt. Parrott and following a scuffle with her where she hit and kicked Sgt. Parrott, she was taken into custody. Sgt. Parrott received an injury to his right hand.
Jamie Allen was charged with operating a motor vehicle under the influence – second offense, attempted murder of a police officer, fleeing or evading police – first-degree – motor vehicle, fleeing or evading police – second-degree – on foot, resisting arrest, wanton endangerment – first-degree, operating on suspended or revoked operator's license; and numerous other traffic violations. This subject was also charged on a Laurel County bench warrant of arrest for failure to appear in court.
Also arrested at the residence on Langnau road was:
Terri Dodd age 47 of Langnau Rd., London charged with hindering prosecution or apprehension – second-degree and disorderly conduct – second-degree – this subject was allegedly housing Jamie Allen at her home knowing that she was wanted on several felony charges.
When arrested this subject yelled and created a disturbance at the scene before being placed in the police cruiser.
Jamie Allen's five-year-old son was placed with his biological father by social services who assisted.
The two individuals arrested were lodged in the Laurel County Detention Center.
Photos: L to R - Jamie Allen & Terri Dodd are courtesy of the Laurel County Detention Center.