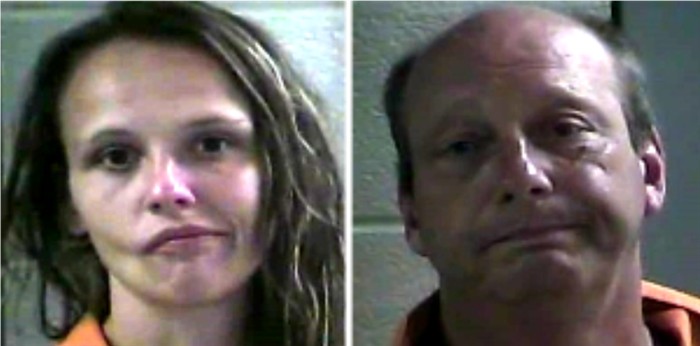 Laurel County, KY - Sheriff John Root is reporting that: Deputy Rick Cloyd along with Deputy Kyle Gray and Deputy Brandon Broughton arrested two individuals off Twin Valley Road, approximately 1 mile west of London on Wednesday night August 3, 2016 at approximately 7 PM.
The arrests were made after deputies were dispatched to a complaint of a verbal disagreement there.
When deputies arrived at the scene and conducted an investigation they learned that the male and female subject there had outstanding charges.
The female subject was identified as: Carmelitta Collett age 27 of Twin Valley Rd., London and was charged on a Kentucky parole violation warrant charging absconding parole supervision and failure to complete treatment for substance abuse regarding a conviction in Laurel Circuit Court on a charge of manufacturing methamphetamine – first offense.
The male subject was identified as Clarence Collett age 51 of Twin Valley Road, London charged on a warrant for Assault 4th degree, and Terroristic Threatening, 3rd degree.
These two individuals were lodged in the Laurel County Detention Center.
Photos attached are courtesy of the Laurel County Detention Center.