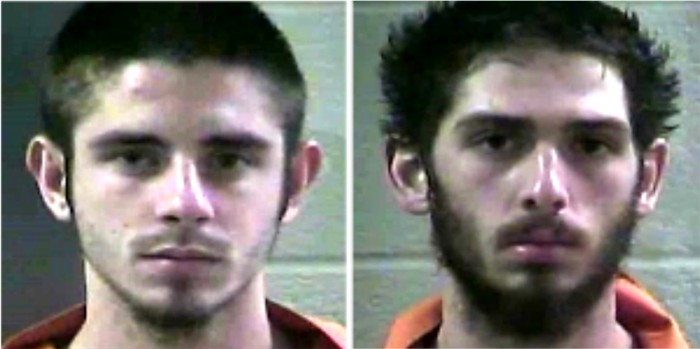 Laurel County, KY - Sheriff John Root is reporting that: Detective Kyle Gray along with Detective Kevin Berry and Deputy Rick Cloyd and CSO Jamie Etherton arrested two individuals at Walmart near Corbin in southern Laurel County on Wednesday afternoon August 10, 2016 at approximately 2:11 PM.
The arrests occurred after deputies and detectives were dispatched to Walmart after Walmart's loss prevention team allegedly observed 2 individuals concealing store merchandise on their person – total value of the theft was over $247.
In addition the 2 individuals were allegedly observed by loss prevention in the sporting goods section of Walmart trying to force entry into a glass cabinet that was locked. After gaining access the individuals apparently took four trail cams out of the cabinet, keeping the trail cams with them and later dropping them in another section of the store.
The two individuals are identified as:
Glennis Cody Nantz age 21 of Route 6 Woodbine, KY
Justin Lee Hale age 21 of Bear Hollow Rd., Rockholds, KY.
Both individuals were charged with theft by unlawful taking – shoplifting; theft by unlawful taking – shoplifting $500 or more but under $10,000; and criminal mischief - third-degree.
The two individuals were lodged in the Laurel County Detention Center.
Photos attached are courtesy of the Laurel County Detention Center.