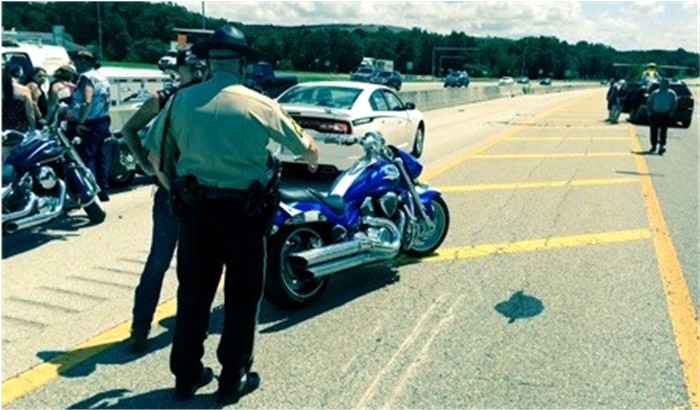 Laurel County, KY - Sheriff John Root is reporting that: Deputy Travis Napier is investigating single vehicle traffic crash involving a motorcycle which occurred on I- 75 approximately 5 miles south of London in the south bound lanes where three lanes become two lanes, on Friday afternoon August 12, 2016 at approximately 1:48 PM.
The investigating deputy reports that apparently a motorcycle was traveling southbound on I-75 when traffic began slowing and stopping due to heavy traffic and due to three lanes merging into two lanes. Apparently the motorcycle was unable to stop and it slid on its side seriously injuring the driver.
The driver was identified as Justin Butler age 35 of Eubank, Kentucky – airlifted by PHI helicopter to UK Hospital Lexington for treatment of injuries.
Assisting at the scene was Laurel County Volunteer Fire Department, Ambulance Inc. of Laurel County, and London Laurel Rescue Squad.
Also assisting was:
Laurel County Sheriff's Lieut. Greg Poynter, Deputy Shawn Boroviak, Deputy John Inman, Cpl. Jack Caudill, and Jason Bowden, Bailiff Tony Anders.
Photo of crash site provided by the Lt. Greg Poynter.