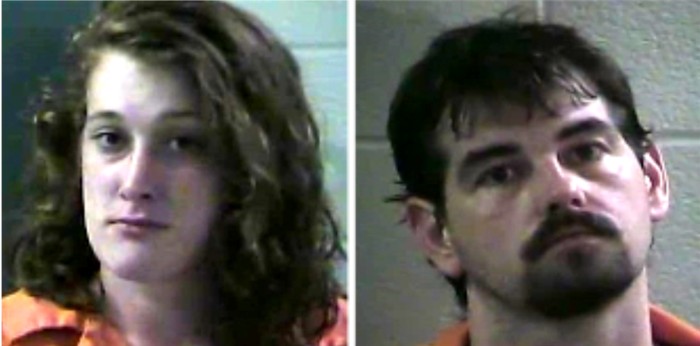 Laurel County, KY - Sheriff John Root is reporting that: Deputy Shawn Boroviak arrested two individuals off Haley Ridge Road, approximately 4 miles north of London on Thursday afternoon August 18, 2016 at approximately 12:15 PM.
The arrest occurred after Deputy Boroviak was dispatched to a complaint that two individuals were at a residence there unlawfully removing items from a residence.
When Deputy Boroviak arrived at the scene and conducted an investigation he learned that the female subject had previously lived at the residence but was made to vacate the residence nearly 4 months ago. A male subject was there with her allegedly helping her remove items.
When arrested the female subject began jerking and pulling away and screaming and saying that she wasn't going to jail and continued to scream creating a disturbance in a neighborhood.
The two individuals arrested were identified as:
Stacey Oakes age 25 of Sim Smith Ln., London charged with criminal trespass – first-degree; public intoxication – controlled substances; disorderly conduct – first-degree; and resisting arrest. In addition, this individual was charged on an outstanding Laurel County bench warrant of arrest charging that she left rehab upon arrival regarding charges of operating a motor vehicle under the influence -3rd offense and possession of a controlled substance – first offense – second-degree.
William Jones age 36 Of Days Rd., London charged with criminal trespassing – third-degree.
The two individuals were lodged in the Laurel County Detention Center.
Photos attached are courtesy of Laurel County Detention Center.