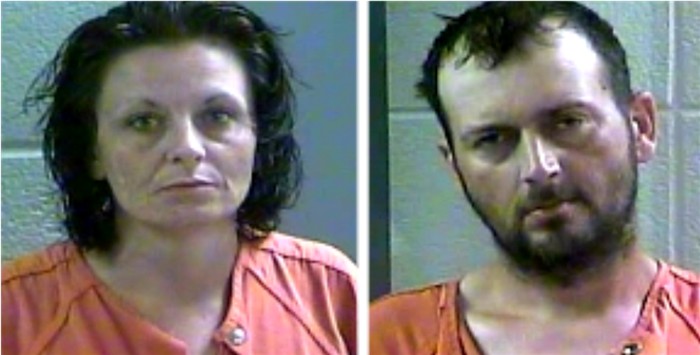 Laurel County KY - Sheriff John Root is reporting that: Sgt. Larry Parrott along with Deputy Shawn Jackson and Deputy Shannon Jones arrested two individuals early Friday morning August 26, 2016 at approximately 5:02 AM.
The arrests occurred on American Greeting Card Road near West Cumberland Gap Pkwy. approximately 10 miles south of London after a traffic stop was conducted on a suspect vehicle allegedly involved in a vehicle theft at a business parking lot the day before in that area.
The suspect vehicle - a white colored Chevrolet Avalanche and it's occupants had allegedly been observed on video surveillance allegedly involved in taking a 1994 Chevrolet pickup truck from a business parking lot.
An investigation was conducted and the driver and passenger were both also determined to be under the influence.
Arrested was:
The driver identified as Patricia Stanley age 36 of Douglas Blvd., Corbin, charged with operating a motor vehicle under the influence – first offense; careless driving; license to be in possession; failure of owner to maintain required insurance – first offense; failure to wear seatbelts; improper turning; and other traffic violations.
In addition, this subject was charged on a Kentucky parole violation warrant charging absconding parole supervision; failure to complete treatment for substance abuse; and failure to report to parole officer as directed regarding a conviction in Laurel Circuit Court of the offense of trafficking in a controlled substance – first-degree – first offense – methamphetamine.
The passenger identified as John Darr age 38 of Curry Ln., Corbin charged with theft by unlawful taking – auto – $500 or more but under $10,000. This subject was allegedly observed on surveillance video involved in the theft of the 1994 Chevrolet pickup truck.
In addition, this subject was charged with public intoxication – controlled substances. This subject stated that he had been doing Neurontin and shooting up Oxycodone 30's.
The two individuals were lodged in the Laurel County Detention Center.
Photos attached are courtesy of the Laurel County Detention Center.
Investigation is continuing with additional arrests are expected.