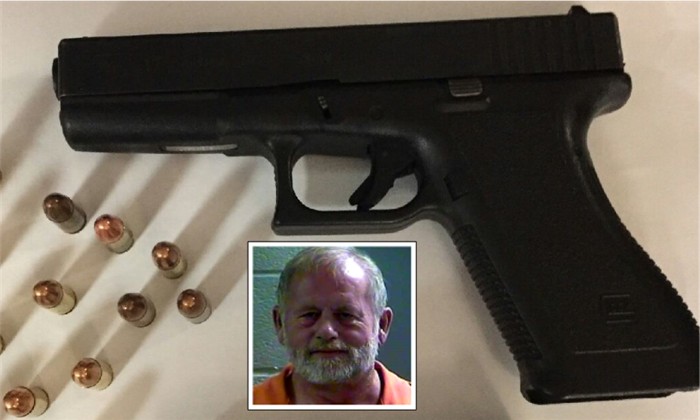 Laurel County, KY - Sheriff John Root is reporting that: Sgt. Larry Parrott arrested Roy Hibbard age 63 of Goodin Ln., Corbin on Thursday night October 6, 2016 at approximately 11:22 PM.
The arrest occurred off Goodin Lane, approximately 11 miles south of London while law enforcement officers were conducting a search in that area for a suspect that had fled from a Laurel County deputy earlier in the week.
Allegedly, this subject came out onto his porch and fired two shots at the officers who were approximately 150 feet away on the public roadway there. Officers took this subject into custody without incident and recovered a Glock 9mm pistol from him.
This subject had slurred speech and appeared to be under the influence stating he had taken hydrocodone earlier in the evening.
Roy Hibbard was charged with four counts of wanton endangerment – first-degree – police officer is victim.
Officers that were present searching in addition to Sgt. Parrott included: KSP Trooper Chris Saunders and Trooper Brandon Creekmore along with U.S. Marshal Todd Hansford.
Roy Hibbard was lodged in the Laurel County Detention Center. Other officers that assisted on the investigation and arrest included Laurel Sheriff's Deputy Shawn Jackson and Deputy Shannon Jones; Kentucky State Police Tooper Ben Shannon, Trooper Jason Smith and KSP/KVE Officer Mike Hamblin.
Inset photo is courtesy of the Laurel County Detention Center.
Photo of recovered Glock 9mm provided by LSO