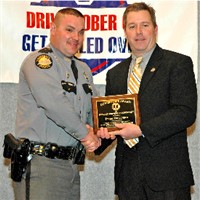 Ceremony salutes efforts to keep Kentucky roads safe
FRANKFORT, Ky. (Dec. 5, 2012) – The Kentucky Office of Highway Safety (KOHS) today honored 197 law enforcement officers from 164 agencies across the Commonwealth for their efforts to target impaired drivers.
The 2012 Governor's Impaired Driving Enforcement Awards ceremony was held at the Galt House Hotel and Suites in Louisville. Awards were presented to officers with the most impaired driving arrests in each agency and division.
Pictured is Tpr. David Fugate receiving his Governor's Impaired Driving Enforcement Award from Ky. Office of Highway Safety Director Bill Bell. Fugate arrested 31 impaired drivers during the past year.