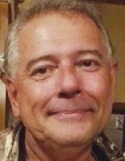 Kenneth Ray Campbell, age 54, of Manchester, passed away Saturday May 25th, 2019 at his home.
He is survived by his sisters Martha and Wanda Campbell, both of Manchester, his nephews Josh and Jessie Campbell and nieces Amanda Hooker and Ashley Zamalloa, great nephew Christoper Hooker, and special adopted baby Eloise House.
He is also survived by two sisters in law Phyllis Campbell and Janet Campbell, his friend Jeff Merriman, his adopted brothers Ben Samulpong and Steve Perkins, and his best friend Tony Marcum.
He is preceded in death by his parents Jessie Campbell Sr. and Peggy Campbell and his brothers James Bill Campbell and Jessie Pumpkin Campbell Jr.
A Celebration of Life for Kenneth will be held 12 Noon Wednesday May 29th, 2019 at the Britton Funeral Home Chapel with Tony Marcum and Larry Red Smith officiating. Burial will follow in the Campbell Cemetery at Cotton Bend. Visitation will be after 6 PM Tuesday at the Britton Funeral Home.