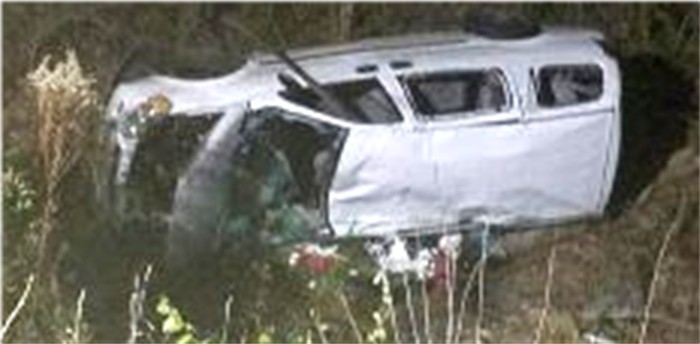 Whitley County, KY - WCSD is reporting that at around 9:40 p.m. Wednesday November 23, 2016, Deputy Joe Prewitt responded to southbound I-75 near the 8 mile point.
A white minivan from Ohio and a black Fiat car from Florence, Kentucky collided, causing the van to leave the roadway, roll down a steep embankment and come to rest on its side.
All five persons inside the van were transported by ambulance. A female passenger from the Fiat car was also transported.The six total patients were transported by Whitley County and Campbell Co. EMS crews. South Whitley Volunteer Fire Department assisted at the scene.
One lane of I-75 remained closed for over an hour. Specialized equipment was required to recover the van from the steep embankment. The sheriff's department appreciates everybody who shared Wednesday night's I-75 Traffic Alert to help drivers prepare for the slowed and stopped traffic.
Dep. Prewitt is leading the investigation. Drug or alcohol involvement is not suspected.
Wednesday was estimated to be one of the busiest travel days of the holiday season. Traffic is expected to increase again through the weekend.
When planning any drive, prepare for delays so you can stay on schedule without needing to speed or engage in other dangerous driving behaviors. Law enforcement will be out enforcing traffic laws.
Please drive safely!
Photo provided by Whitley County Sheriff's Department