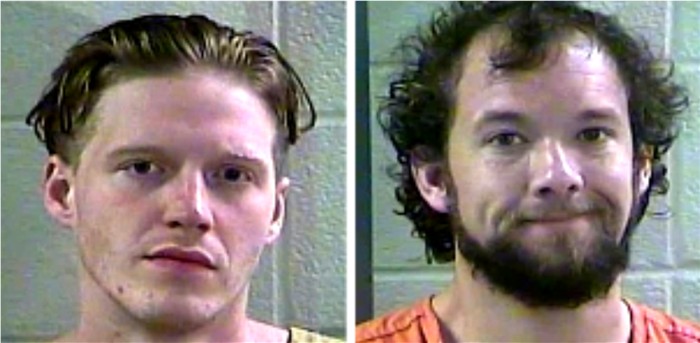 Laurel County, KY - Sheriff John Root is reporting that: Detective Jason Back, Detectives James Sizemore , Deputy Daniel Grigsby and his K-9 "Edge", and Sheriff John Root arrested two individuals off Keavy road approximately 1 mile west of London on Tuesday afternoon December 20, 2016 at approximately 2:30 PM.
The arrests occurred while Sheriff Root, detectives and deputies were conducting a drug investigation there and discovered during the investigation -11 bags of crystal methamphetamine, two sets of digital scales, a shotgun and a loaded .45 caliber Taurus handgun and a sum of US currency.
Also an individual there was found carrying a pair of artificial knuckles concealed on his person.
Arrested was:
Mark Gavin age 25 of Sasser school road, London charged with trafficking in a controlled substance – first-degree – first offense – 2 grams of methamphetamine or more.
Steven Maggard age 27 of Greenmount Bond Rd., London charged with carrying a concealed weapon.
These two individuals were lodged in the Laurel County Detention Center.
Assisting on the investigation and arrests were: Capt. Chuck Johnson, Lieut. Greg Poynter, Sgt. Robbie Grimes, Deputy Cody Faulconer, Deputy Travis Napier, and Deputy Daniel Grigsby and his K-9 " Edge".
Photos of the two accused individuals is courtesy of the Laurel County Detention Center.
Sheriff Root stated that the "war on drugs" continues. Investigations into illegal drug activity will continue on a daily basis at the Sheriff's office.