Clay County, KY - The City Of Manchester Fire Department is reporting that: At approximately 7:45 AM on Tuesday June 4, 2019 Manchester & Lockard's Creek Fire Units were dispatched by Clay County 911 to a possible structure fire with entrapment on Gray Lane near Charlie Sizemore Road.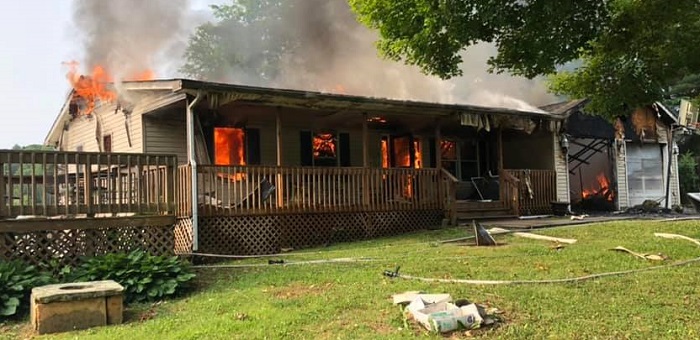 Upon arrival of Car 1 units were advised of heavy smoke and flames showing from the rear side of the residence.
Chief Nolan being the first Unit on scene made two initial searches of the residence with the help of Manchester City Police Chief Chris Fultz and Clay County Sheriff Patrick Robinson to assure that there wasn't anyone home which was later confirmed by the homeowner.
Units attempted to make an offensive attack on the fire before the ceiling began to fall in on the those inside the structure.
All interior crews were then backed out of the residence and forced to transition to a defensive attack. While standing by exposure protection was provided.
Units cleared the scene with no further incident.
Assisting at the scene:
Horse Creek Fire Department
Burning Springs Fire Department
Manchester Police Department
Clay County Sheriff's office
Jackson Energy
Huge shoutout and thanks to the Clay County Sheriff's Office as they provided bottled water to all Firefighters on scene!