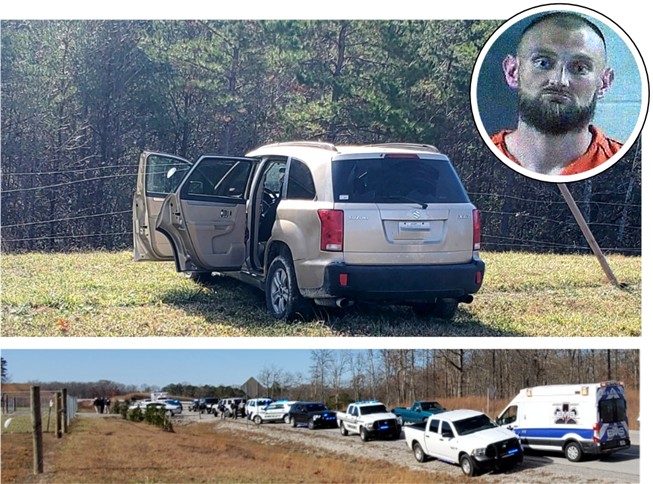 LONDON, KY. (December 6, 2019) - Laurel County Sheriff John Root is reporting that: The "Sheriff's Most Wanted" is James Ray Simpson age 36 of Laurel County.
James Ray Simpson is being sought by the Laurel sheriff's Office for Fleeing or Evading Police.
Laurel Sheriff's Deputy Taylor McDaniel and Deputy Joey Robinson are investigating after this suspect allegedly fled from police driving extremely recklessly over 19 miles in a gold colored Suzuki Vitara in Laurel and Jackson County on Wednesday December 4, 2019, finally stopping his vehicle after running through 3 fences, and then ran off on foot.
Two deputies were violently assaulted once the vehicle could go no further. This subject failed to appear in Court on Friday December 6, 2019 on unrelated charges.
To report a tip call 606-864-6600.
*All information is strictly confidential.
BACKGROUND:
LONDON, KY. (December 4, 2019) - Laurel County Sheriff John Root is reporting that: Laurel Sheriff's Deputy Taylor McDaniel along with Deputy Joey Robinson are conducting an investigation following a 2 county traffic pursuit that originated on KY 30 approximately 5 miles north of London on Wednesday morning December 4, 2019 at approximately 11:03 AM.
Deputy Taylor McDaniel clocked a gold colored Suzuki SUV that was traveling northbound on KY 30 driving 70 mph in a 55.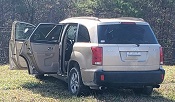 When he made a turnabout engaging his emergency equipment and attempted to stop the vehicle, the vehicle accelerated to speeds over 100 mph traveling approximately 8 miles into Jackson County where the vehicle apparently intentionally traveled into a ditch line and up a bank, crashing through three fences and traveling across a field for approximately 200 yards and came to stop at a heavily wooded area where its two occupants fled on foot.
One of the male suspects then confronted deputies violently assaulting deputies before being taken into custody. The other suspect has not been located but the investigation is continuing to identify him.
In addition, an investigation is underway in an attempt to determine why the vehicle fled from deputies initially.
Other agencies assisting included the Jackson County Sheriff's office, Jackson County Ambulance service, Jackson County EMS, Kentucky State Police, and the US Marshal Service.
A photo is attached of the vehicle that fled from deputies and emergency vehicles at the scene.
An update will be released when arrest data and more information is available.