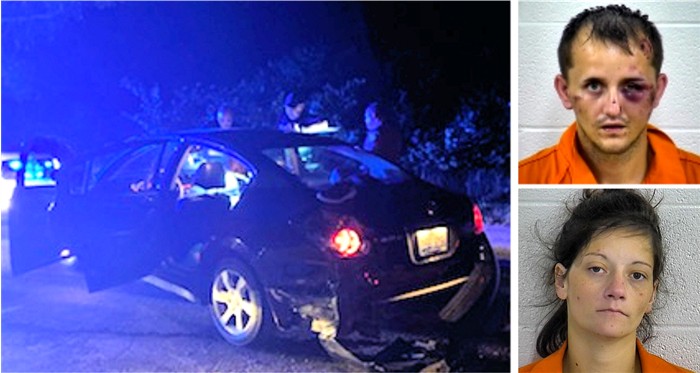 LONDON, KY - Laurel County Sheriff John Root is reporting that: Laurel Sheriff's Sgt. John Inman along with Deputy Tommy Houston and Deputy Landry Collett arrested Nicholas J. Denny age 30 of Rockcastle County early Thursday morning July 30, 2020 at approximately 3:35 AM.
The arrest occurred on Rockcastle River Forestry Road (off Ky 490) approximately 9 miles north of London following a 90 minute four County pursuit that began at a business off KY 909 following a complaint of subjects possibly under the influence and creating a disturbance there.
When deputies arrived at the scene, they encountered subjects seated in a dark blue Nissan Altima. Upon approaching the vehicle, the driver recklessly pulled out of the parking lot, and as the vehicle entered I–75 Northbound, the vehicle slowed and a female passenger exited the vehicle.
The vehicle traveled northbound on I–75 at speeds exceeding 100 mph swerving across all lanes of travel, braking, and recklessly passing other motorists traveling into Rockcastle County, Madison County, Jackson County, back into Rockcastle County and finally onto KY 490 back into Laurel County where Deputy Houston utilized a pit maneuver causing the vehicle to stop safely.
The driver tried to exit the vehicle to flee on foot but was taken into custody following a brief struggle with deputies there.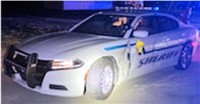 Only Deputy Houston's cruiser (left) and the suspect vehicle were damaged.
Through investigation deputies learned that the driver and passenger had attempted to inject heroin as the pursuit began.
During arrest the driver was found in possession of:
A pipe with suspected Methamphetamine
Dispensed needles
Marijuana
The driver was determined to be under the influence.
In addition, the driver was wanted on an outstanding warrant.
Nicholas Denny was charged with:
Operating a motor vehicle under the influence – fourth offense
Fleeing or evading police – first-degree – motor vehicle
Two counts of wanton endangerment – first-degree – police officer is victim
Speeding more than 26 mph over the limit
Possession of drug paraphernalia
In addition, this subject was wanted on a Rockcastle Circuit Court bench warrant of arrest charging:
Failure to appear in court on charges of theft by unlawful taking
A female passenger in the vehicle at the onset of the pursuit was identified as:
Morgan A. Dixon age 27 of Kingston Acres, Berea, KY charged with:
public intoxication – controlled substances.
These two individuals were lodged in the Laurel County Correctional Center.
Photos of accused attached are courtesy of Laurel County Correctional Center.
Also crime scene photos are attached to this report.
Assisting on the pursuit were for the Laurel Sheriff's office: Lieut. Chris Edwards, K-9 Deputy Gary Mehler.
Also assisting from other agencies were Rockcastle County Sheriff's office, Kentucky State Police Troopers, Kentucky State Police Commercial Vehicle Enforcement officers.