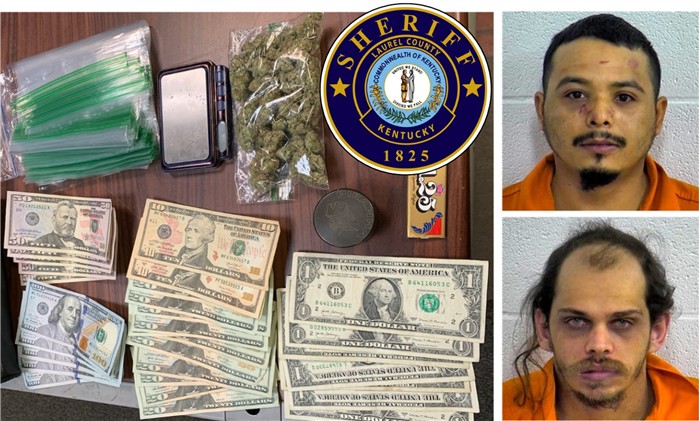 LONDON, KY- Laurel County Sheriff John Root is reporting that: Laurel Sheriff's Deputy Brent France along with K-9 shift Sgt. Gary Mehler, Deputy Travis Napier, Deputy Dustin Saylor, and Deputy Marcus Stigall arrested two subjects on the Hal Rogers Parkway approximately 2 miles east of London after Deputy Brent France was flagged down by a motorist advising that a black Chevrolet truck had hit a vehicle at a gas station and left the scene.
Deputy France traveled out East Hal Rogers Parkway and located the suspect vehicle, a black Chevrolet Silverado and conducted a traffic stop, determining that the driver was under the influence.
It was also determined that this vehicle was the hit and run vehicle.
During the arrest and custody of the driver identified as: Jesus Angel Lozano age 26 of Wallace St., Manchester, KY scuffled with deputies and attempted to kick out the windows of the police cruiser, continuing to be combative the entire trip to the detention facility. At the detention facility this individual continued to be combative.
A passenger in the vehicle identified as: Jesse Ray Couch age 26 of Statue Road, Manchester, KY was also arrested after being found with a large quantity of Marijuana.
Jesus Angel Lozano was charged with:
Operating a motor vehicle under the influence – first offense
Leaving the scene of an accident
Disorderly conduct – second-degree
Resisting arrest
Failure to wear seatbelts
Possession of drug paraphernalia
Trafficking in Marijuana – first offense
Jesse Ray Couch was charged with:
Trafficking in marijuana – first offense
These two individuals were lodged in the Laurel County Correctional Center.
Photos of accused attached are courtesy of the Laurel County Correctional Center.
Laurel County Sheriff John Root (left) stated that drug arrests will continue in Laurel County.