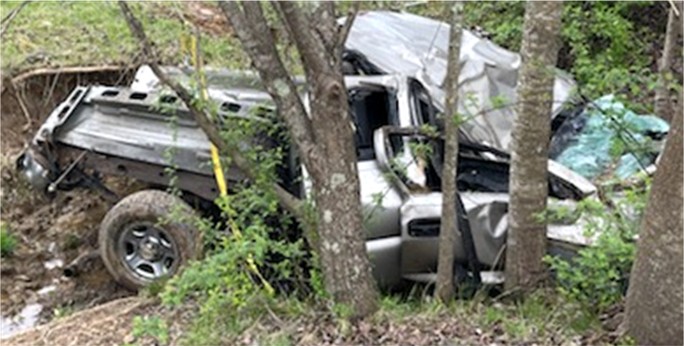 LONDON, KY - Laurel County Sheriff John Root is reporting that: Laurel Sheriff's K-9 Deputy Jake Miller along with Capt. Robbie Grimes and Detective Robert Reed investigated a one vehicle single traffic fatality which occurred on KY 229 approximately 10 miles South of London on Tuesday afternoon April 13, 2021 at approximately 12:39 PM.
Sheriff's investigators report that apparently a tan colored Chevrolet pickup was traveling northbound on KY 229 when it lost control traveling off the roadway on the right shoulder over turning causing a fatal injury to the lone occupant, the driver.
The deceased individual was identified as: Zachary Turner age 24 of Barbourville, KY pronounced deceased at the scene by the Laurel County Coroner's Office.
Assisting at the scene were: London -Laurel Rescue Squad, Ambulance Inc. of Laurel County, Campground Volunteer Fire Department, and the Laurel County Coroner's office.
Photo of crash site provided by Sheriff's deputies.