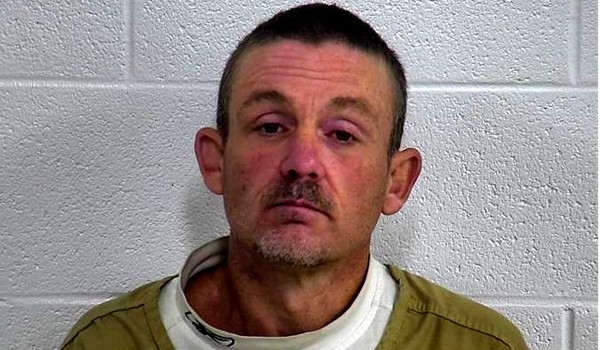 LONDON, KY (April 22, 2021) - Laurel County Sheriff John Root is reporting that: Laurel County Deputy Greg Poynter along with K-9/shift Sgt. Gary Mehler arrested Anthony S. Wood age 45 of Orchard Rd., East Bernstadt, KY on Wednesday afternoon April 21, 2021 at approximately 3:56 P.M.
The arrest occurred off Highway 490 approximately 3 miles north of London, after deputies were dispatched to a complaint of a possible intoxicated male subject inside a business there causing a disturbance.
Shortly afterwards and while deputies were enroute to the scene, a second complaint was dispatched concerning the same suspect.
It was reported that the male subject was standing on the railroad tracks with his pants down around his ankle and that he had allegedly exposed himself in front of an adult female and her two children ages eight and 11.
When deputies arrived at the scene the suspect struggled with deputies briefly before being taken into custody.
It was learned that this individual was a parole violator.
Anthony Wood was charged with:
Indecent exposure – first-degree – first offense
Public intoxication – controlled substances
Resisting arrest
Giving officer false identifying information
In addition, this subject was charged on a Kentucky parole board parole violation warrant charging:
Absconding parole supervision
Failure to attend treatment for substance abuse
Use of controlled substance – Methamphetamine
Failure to report to parole officer as directed
Failure to make restitution as directed regarding a conviction in Laurel Circuit Court on charges of: Arson – second-degree
This individual was lodged in the Laurel County Correctional Center.
Photo of accused attached is courtesy of Laurel County Correctional Center.