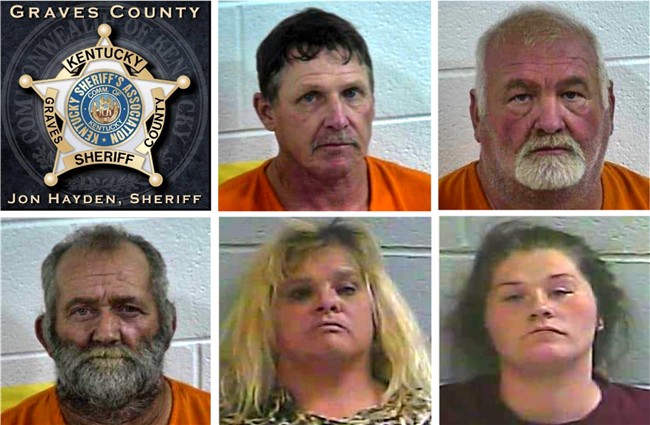 MAYFIELD, KY - The Graves County Sheriff's Office reported on Saturday, December 18, 2021 that on Friday afternoon, Graves Sheriff's deputies were alerted to suspicious activity in the area of Cardinal and Pritchett Road. This area was particularly hit hard by the tornado and resulted in deaths.
It was reported that several suspects that appeared to have been working in a group were rummaging through persons personal property, and loading vehicles that were destroyed by the tornado. Sheriff's deputies from both Calloway and Graves Counties, along with Kentucky State Police Troopers quickly converged onto the area and found the group in motion, towing several damaged vehicles attempting to leave the area.
They were stopped at the Pritchett Road and U.S. Highway 45 South intersection.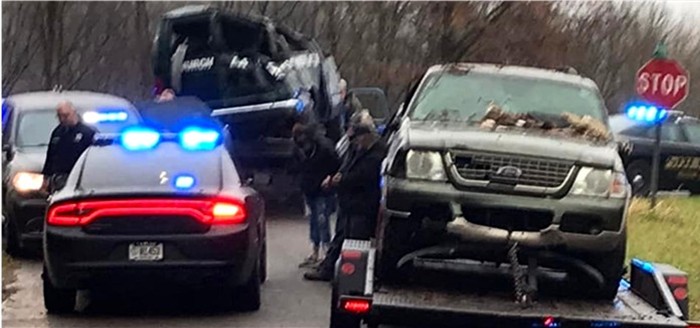 Sheriff's deputies and Troopers found a variety of personal items belonging to tornado victims, including some household goods, new shoes, muddy change, copper wiring and other items. They were also towing several vehicles that were owned by tornado victims that have been displaced by the tornado, in the hospital, and/or deceased.
Statements from some of the suspects contradicted each other as to having permission from the homeowners. Some of the claims made by suspects were disproven after sheriff's deputies were able to find and question the homeowners of where property was taken.
Arrested was:
Kevin Stowe, 55 of Union City, TN charged with:
Theft of Automobile
Theft of Motor Vehicle Registration Plate
The vehicle Stowe was driving, has a stolen license plate on the vehicle from Tennessee. In addition he had in his possession in excess of $120,000 dollars in cash.
Ronnie D. White, 57 year old of Hickman, KY charged with:
Theft by Unlawful Taking Automobiles
Lynne E. Bailey, Jr. 56 of Hickman, KY charged with:
Theft by Unlawful Taking Automobiles
Linda K. Morris, 52 of Dresden, TN charged with:
Theft by Unlawful Taking Automobile
Possession of Methamphetamine
Operating on a Suspended License
Theft by Unlawful Taking (Personal Property)
Syringes containing Methamphetamine were found in the vehicles she was operating, including her purse. She was also in possession of copper wiring and a brand new pair of women's "Ugg" boots, stolen from a storm victims home.
Kaitlyn R. Moore, 29 charged with:
Theft by Unlawful Taking (Automobile)
Possession of Methamphetamine
Tampering with Physical Evidence
Suspect was found to have hidden Methamphetamine in her body cavity. Suspect stated it was hidden as they were being stopped by law enforcement.
Suspects were transported and lodged at out of county jails. The case remains under investigation.
Thank you,
Sheriff Jon Hayden