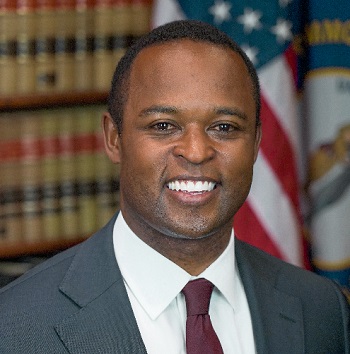 Attorney General Daniel Cameron
FRANKFORT, Ky. (December 27, 2021) – Attorney General Daniel Cameron announced today that a prosecution by his Office of Special Prosecutions led to the guilty plea of former Trigg County Sheriff Jason Barnes of Gracey, Kentucky.
Barnes pled guilty to charges related to providing alcohol to a person under 21 and tampering with the testimony of a potential witness.
In February of 2020, Jason Barnes provided alcohol to a person under the age of 21 and later knowingly practiced deceit with the intent to affect the testimony of a potential witness.
Barnes tendered his resignation as Trigg County Sheriff effective Monday, August 31, 2020.
Today, Barnes pleaded guilty in Trigg Circuit Court to tampering with a witness, a Class D felony, and to an unlawful transaction with a minor in the third degree, a Class A misdemeanor.
The Kentucky State Police, the Federal Bureau of Investigation, and the U.S. Attorney's Office for the Western District of Kentucky jointly investigated the case. Assistant Attorney General Alexander Garcia prosecuted the case on behalf of the Commonwealth. Sentencing is scheduled for February 8, 2022.
###