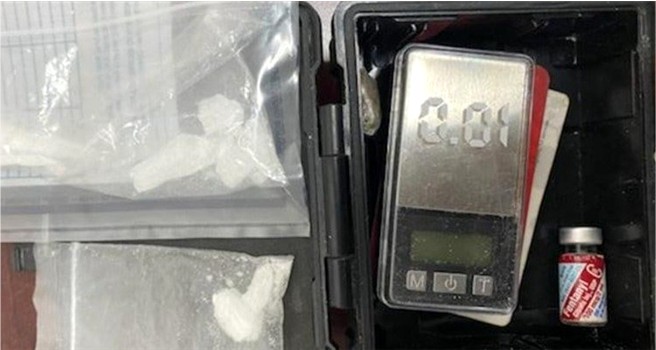 BARBOURVILLE, KY - The Knox County Sheriff's Department is reporting that on Monday, June 6, 2022, at approximately 11:00 P.M. Knox County Deputy Jesse Smith received a tip on a white 2000 Chevrolet Silverado that was parked behind the Creek Mart gas station just off of Highway 25E in Flat Lick. The caller stated that the individual in the vehicle was "selling dope".

Deputy Smith responded to the location making contact with the driver, 43-year-old Jonathan Honeycutt of Scalf, Ky. Honeycutt also had a female passenger in the vehicle with him.
During the course of the investigation, Honeycutt gave consent for the deputy to search the vehicle which yielded a black box inside a purse that contained a clear bag with suspected Methamphetamine inside.
Also found was a clear vile of liquid Fentanyl and a clear bag of suspected Marijuana. Honeycutt claimed possession of the illegal drugs and was arrested.
Jonathan Honeycutt was charged with:
Trafficking in a controlled substance -1st degree, 1st offense (Carfentanil or Fentanyl Derivatives)
Trafficking in a controlled substance – 1st degree, 1st offense (greater than 2 grams – Methamphetamine)
Trafficking in Marijuana (less than 8 oz.) – 1st offense
This individual was lodged in the Knox County Detention Center
Photos of seized contraband and the accused from Knox County, Ky. Sheriff's Department.