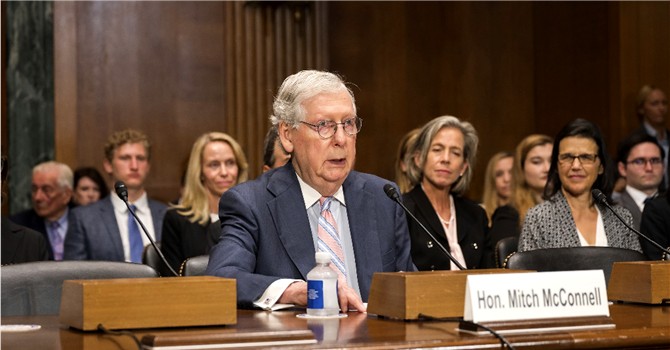 McConnell delivers remarks during Judiciary Committee hearing
WASHINGTON, D.C. – On Wednesday, June 8, 2022, U.S. Senate Republican Leader Mitch McConnell (R-KY) introduced three U.S. Sentencing Commission nominees, including Judge for the Eastern and Western Districts of Kentucky Claria Horn Boom, during the U.S. Senate Committee on the Judiciary hearing. Senator McConnell's prepared remarks follow:
"It's my privilege to introduce three extraordinary women for your consideration for the U.S. Sentencing Commission.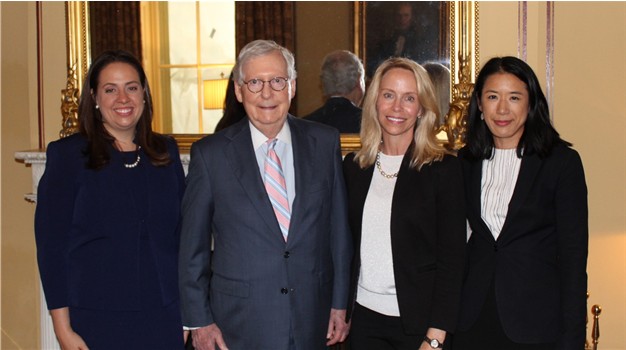 L-R: Claire McCusker Murray, U.S. Senate Republican Leader Mitch McConnell, Judge Claria Horn Boom, and Candice C. Wong
"Rising crime is at the top of many Americans' minds. It's as important as ever for us to confirm strong candidates for this Commission. I'm confident that these three nominees will hold criminals accountable and enforce law and order.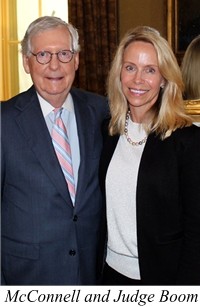 "I'd like to start by highlighting the work of my fellow Kentuckian, Judge Claria Horn Boom.
"For the past four years, Judge Boom has served as a U.S. District Judge for both the Eastern and Western Districts of Kentucky. She's part of a small and distinct class. Nationwide, only two judges serve in two separate districts at once. This role has offered a masterclass in law and justice. She travels throughout our state, from Pikeville to Paducah, to hear cases affecting every aspect of life in the Commonwealth. It's a position at the heights of the legal world. But it's quite different from her first courtroom experiences.
"Judge Boom got her earliest taste of the American justice system alongside her mother, who worked as a county Circuit Clerk in rural Appalachia for three decades. In a town with only a few hundred people, in a county of just a few thousand, court decisions there affected Judge Boom's neighbors in a uniquely personal way. That background gave her a firm grasp on the concept of 'equal justice under law.'
"To Judge Boom, everyone from downtown Louisville to the hills of Eastern Kentucky deserves the same respect in the courtroom. It's a value she has upheld with distinction as a federal judge. And I know it's the mentality she'll bring to the U.S. Sentencing Commission when she crafts guidelines affecting the whole country.
***
"I'd also like to introduce nominees Claire McCusker Murray and Candice C. Wong. Both are outstanding young attorneys here in Washington, D.C.
"Claire was acting Associate Attorney General in the prior administration. She also worked as an associate White House counsel and counselor to Attorney General Bill Barr. Before that, she served as a career prosecutor at the Department of Justice, a partner at Kirkland & Ellis, and clerked for Justice Alito and for Judge Kavanaugh. She's currently a very busy mother of five.
"Candice currently serves as an Assistant U.S. Attorney here in D.C. where she is Chief of the Violence Reduction and Trafficking Offenses Section. She knows her way around the Sentencing Commission having previously served as an ex officio member during her time in the leadership of the Criminal Division. She clerked for Justice Sotomayor and, like Claire, for Judge Kavanaugh. If confirmed, she will also be the first Asian-American to serve on the Sentencing Commission.
"Both Claire and Candice bring years of criminal-law experience to this role. They are dedicated to the Constitution and fully prepared to uphold the rule of law.
"I know these three women are right for this role and I expect you'll find them informed, intelligent, and well-prepared in today's hearing. Thank you for giving me the chance to introduce these fine candidates. I look forward to their continued service to our country."