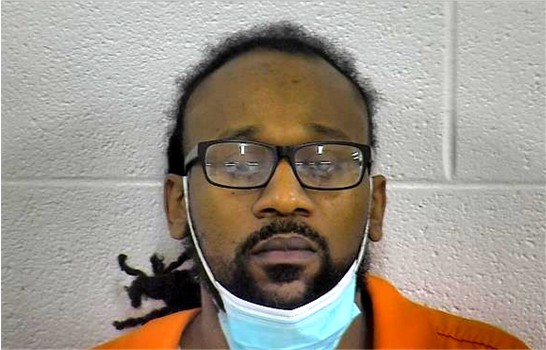 Charles Ray Edwards (Credit: Laurel County Correctional Center)
LONDON, KY (July 26, 2022) - A Flint, Michigan, man was found guilty Monday, by a federal jury sitting in London, of armed drug trafficking and attempted robbery.
After two hours of deliberation, following a five-day trial, the jury convicted 39-year-old Charles Ray Edwards of heroin trafficking, fentanyl trafficking, conspiracy to distribute both substances, felon in possession of a firearm, use of a firearm in furtherance of the drug trafficking, and for his role in an attempted Hobbs Act robbery at a convenience store. His trafficking and robbery offenses involved three shooting victims, including the death of a bystander in the convenience store.
According to testimony at trial, Edwards was dealing heroin and fentanyl in Southeastern Kentucky region. As part of his drug trafficking crimes, Edwards wounded two individuals in a shooting incident in Knox County. Then, during the attempted robbery, a bystander in the store was shot and killed. Edwards has a prior felony conviction, and was prohibited from possessing firearms
Edwards was indicted in February 2021.
"After hearing the evidence, the jury was convinced that the defendant was an armed and violent offender, who was involved in three shootings – and the death of a bystander in a store," said Carlton S. Shier, IV, United States Attorney for the Eastern District of Kentucky. "We are hopeful that this verdict will provide some sense of justice to the victims; we are grateful for the critical support of our law enforcement partners, without whom this verdict would not have been possible; and we are pleased that the defendant will now face the consequences of his conduct."
"The combined efforts of Kentucky State Police and ATF have helped bring a very dangerous individual to justice," said ATF Special Agent in Charge Shawn Morrow of the Louisville Division. "ATF will continue to seek justice for the victims of these violent acts and work to make our communities safer."
United States Attorney Shier; ATF SAC Morrow; and Colonel Phillip Burnett Jr., Commissioner, Kentucky State Police, jointly announced the guilty verdict.
The investigation was conducted by the ATF and KSP. The United States was represented in the case by Assistant U.S. Attorney Jason Parman.
Edwards will appear for sentencing on November 17, 2022. He faces a maximum of Life in prison. However, the Court must consider the U.S. Sentencing Guidelines and the applicable federal sentencing statutes before imposing its sentence.
This case prosecuted as part of the Department of Justice's "Project Safe Neighborhoods" Program (PSN), which is a nationwide, crime reduction strategy aimed at decreasing violent crime in communities. The PSN program involves a comprehensive approach to public safety — one that includes investigating and prosecuting crimes, along with prevention and reentry efforts. In the Eastern District of Kentucky, U.S. Attorney Shier coordinates PSN efforts in cooperation with various federal, state, and local law enforcement officials.
— END —