STAFF REPORT:
MANCHESTER, KY (August 2, 2022) - As communities in Clay County begin with the recovery phase following the tragic flooding events of this past week, ClayCoNews Publisher, Ron Curry reached out to a family on U.S. 421 North in the Island Creek community for a statement and permission to video the personal devastation they experienced as the result of a sudden high water event at their location. They agreed but specifically said: "We do not want our own property losses to detract from the losses of others or the unfortunate and ultimate loss of human life."
These are honest, humble and hardworking people who only wish to raise awareness about a situation they have that affects them and their neighbors. That family is the family of Bobby Marcum, the owner and operator of Bobby's Tire and Muffler shop, located at 2913 N Highway 421. He has been doing business for 45 years in the Island Creek community of Clay County.
According to Mr. Marcum approximately 30 years ago a county maintained bridge was removed from next to his family home and place of business and was subsequently replaced with drain tiles. It's an engineering marvel to say the very least.
Once the bridge was removed, debris and other stationary material that happened to be in the normally calm creek would, during periods of heavy rain be picked up and carried along with the rising and fast flowing water to this location before becoming trapped and effectively creating a dam in Island Creek, thus causing flooding to occur at his property and the properties of his neighbors.
Mr. Marcum modestly estimated his own property losses to be between 50-100K over this 30 year time frame and we can only imagine the true total if adjusted for inflation.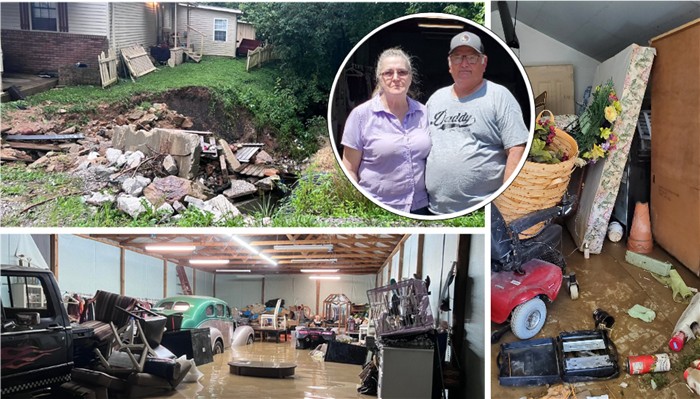 Inset is Glinda and Bobby Marcum at their home on the banks of Island Creek
It's difficult to calculate the monetary loss suffered in the devastation here but in the midst of it all, the Marcums are very thankful for their family's safety blessing! They remain upbeat and are optimistic that the county will correct the problem by replacing the insufficient tiles with a bridge.
Bobby Marcum has been proactively seeking help for several years and then reactively having to clean up the messes after that help never arrived. According to him, he has spoken with county, state, and federal (FEMA) representatives and some have been helpful while others have not. He has watched pre-fabricated bridges be placed as close as Charlie Sizemore Road and often wondered why they couldn't do the same thing at this location?
During our time with Mr. Marcum we were able to obtain video and some still photographs and those are included in this report. Please view them so that awareness can be raised about this situation. Once awareness grows throughout our community perhaps officials will also want to be proactive in order to prevent future losses and tragedy.
We thank Mr. Marcum for providing an essential service to our community and sincerely hope that this situation will soon be resolved once and for all!
ClayCoNews is looking forward to following up on this report in the near future.