The nominees include Kentuckian Judge Claria Horn Boom, U.S. District Judge for the Eastern and Western Districts of Kentucky
WASHINGTON, D.C. – U.S. Senate Republican Leader Mitch McConnell (R-KY) released the following statement following the Senate's confirmation of U.S. Sentencing Commission nominees Judge Claria Horn Boom of the Eastern and Western Districts of Kentucky, Claire McCusker Murray, and Candice C. Wong:
"With violent crime on the rise, including in my hometown of Louisville, it's more important than ever to get strong conservatives on the Sentencing Commission. The Senate's confirmation of these three impressive nominees will allow the Commission to return to studying and establishing federal sentencing guidelines that hold criminals accountable. Judge Boom in particular will bring years of public and private legal experience to the Commission. I was proud to support these nominees during the confirmation process and look forward to their work to improve public safety."
Senator McConnell introduced these nominees to the Senate Judiciary Committee in June.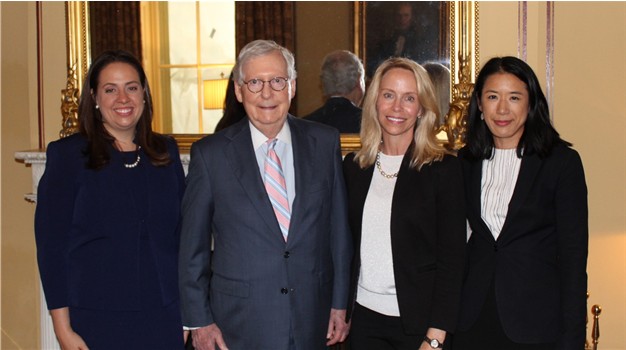 L-R: Claire McCusker Murray, U.S. Senate Republican Leader Mitch McConnell, Judge Claria Horn Boom, and Candice C. Wong
###