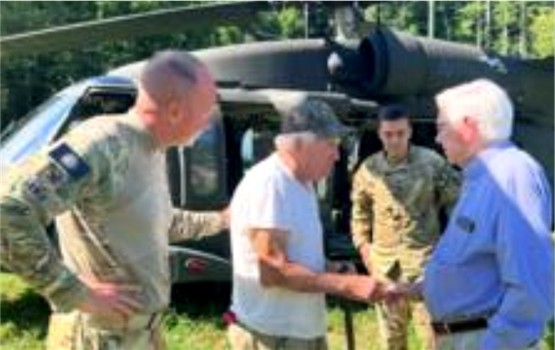 U.S. Congressman "Hal" Rogers gets first-hand look at heroic efforts of the Kentucky National Guard
JACKSON, KY — U.S. Rep. Harold "Hal" Rogers (KY-05) took flight on Thursday, August 4, 2022 with the Kentucky National Guard to provide food and water to flood survivors in hard-to-reach areas of Eastern Kentucky.
"With so many roads that are impassable and bridges destroyed by the flood, we have many flood survivors who are still difficult to reach. Getting food, water, medication and other resources to them is critical as we rebuild the infrastructure around them," said Congressman Rogers. "Today, I got a first-hand look at the heroic efforts of our Kentucky National Guard and the immense efforts underway to meet the desperate needs of our people in Eastern Kentucky."
Congressman Rogers and KYNG surveyed the path of destruction that spans over a dozen counties in Kentucky's Fifth Congressional District to examine necessary resources for infrastructure recovery and future mitigation efforts.
"Over the last four decades, I have helped secure more than $800 million in flood control projects across southern and eastern Kentucky, investing in flood walls, levees, tunnels, dams and other massive public safety projects. After seeing an aerial view of the widespread damage, it is clear that this flash flood was a natural disaster of epic proportions that we haven't met in our lifetime," said Congressman Rogers. "The work to rebuild must be well funded, well orchestrated and long-lasting."