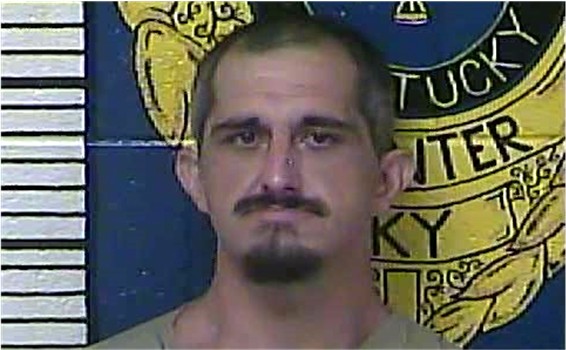 MANCHESTER, KY (August 14, 2022) - Clay County Sheriff Patrick Robinson is reporting that on Tuesday, August 9, 2022 at approximately 12:15 A.M., Clay County Sheriff K9 Deputy Wes Brumley along with Sgt. Jeremy Gabbard and Deputy Jared Smith arrested Donny Byrd, 33 of Woodbine Drive.
The arrest occurred when units received a complaint of a male subject driving a lawnmower down the wrong side of the road with a mask on Highway 472.
Upon arrival, Deputy Brumley noted making contact with the subject who was on the wrong side of the road and using only a headlamp for light.
Deputy Brumley activated his emergency lights at which time the subject continued approximately a fair distance at which time then he attempted to take the lawnmower off road to get away.
Units on scene were able to apprehend the fleeing subject and after a brief struggle the individual was placed under arrest without further incident.
Donny Byrd is charged with:
CARELESS DRIVING
FLEEING OR EVADING POLICE, 2ND DEGREE (MOTOR VEHICLE)
RESISTING ARREST
FAILURE TO APPEAR, CITATION FOR MISDEMEANOR
FAILURE TO APPEAR
CONTEMPT OF COURT LIBEL/SLANDER RESISTANC TO ORDER
RECEIVING STOLEN PROPERTY $1,000 < $10,000
BURGLARY, 3RD DEGREE
CRIMINAL MISCHIEF 2ND DEGREE
BURGLARY, 3RD DEGREE
According to JailTracker, as of 2:30 A.M. Sunday, August 14, 2022 this individual is lodged in the Clay County Detention Center with no bond or court date having been set.
Photo attached of the accused is courtesy of the Clay County Detention Center.
Assisting at the scene was Kentucky State Police Trooper Jarrod Smith.
**If you live in the North Highway 421 or Highway 472 area of Clay County, KY and have a lawnmower stolen please contact the Clay County Sheriff's Office in Manchester.