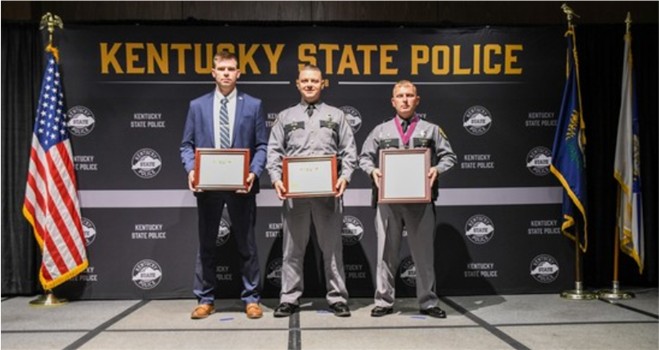 Pictured L to R: Detective James Royal, Trooper Brandon Creekmore and Detective Tyler Morris
LONDON, KY (September 12, 2022) - The Kentucky State Police (KSP) held its annual sworn awards ceremony in Lexington to honor 75 troopers and officers who put on a uniform each day to patrol Kentucky's neighborhoods with a mission of serving and protecting their fellow citizens. The achievement awards presented were for acts of bravery and service that occurred in 2021.
During the ceremony, KSP Commissioner Phillip Burnett Jr. recognized the agency's troopers and officers for going beyond the mission of KSP in 2021 to protect and serve the citizens of the commonwealth by responding to two historic natural disasters, running into unthinkable dangers, assisting with the continued fight against the deadly drug epidemic and answering thousands of calls for service.
Four troopers from the Post 11 area were included in those honors.
Trooper Brandon Creekmore was named 2021 Post 11 Trooper of the Year. Trooper Creekmore is a 12-year veteran of KSP assigned to the Electronic Crime Branch.
Detective James Royal was named 2021 Post 11 Detective of the Year. Detective Royal is a 9-year veteran of KSP assigned to Post 11 London.
Detective Tyler Morris received the KSP Citation for Bravery. Detective Morris is a 7-year veteran of KSP assigned to the East Drug Enforcement and Special Investigations Unit.
Detective Samuel Peace received the KSP Citation for Bravery. Detective Peace is a 7-year veteran of KSP assigned to Post 11 London.
Post 11 Commander Alfred Bunch said he is proud of the commitment and efforts of these units. These Three Troopers go above and beyond every day. They truly exemplify the meaning of service above self and go above and beyond the call of duty.
KSP's focus this year is to maintain and strengthen its essential workforce in order to better provide public safety, maintain critical services and better reflect the diverse communities that KSP serves. For more information about KSP's commitment of creating a better Kentucky by making the commonwealth's streets safer, communities stronger and the nation more secure by providing exceptional law enforcement, click here.