NASHVILLE, TN - This week, Governor Bill Lee and First Lady Maria Lee announced the state's official Christmas events, including Christmas at the Capitol and "The Gift of Giving" tour of the Tennessee Residence.
"Maria and I look forward to continuing the Tennessee tradition of generosity throughout the holiday season," said Governor Bill Lee. "We invite Tennesseans to join us in giving back as we reflect on our many blessings and prepare our hearts to receive the ultimate gift, the birth of Christ."
In partnership with the first lady's Tennessee Serves giving initiative, the Lees invite guests to bring requested items to the state's Christmas events to support the work of five nonprofits across the state. Nonprofits include Birth Choice, Mid-South Food Bank, My Friend's House, Mission of Hope and Boys & Girls Clubs of Chattanooga.
The Lees will host the following events:
Christmas at the Capitol
The annual Christmas at the Capitol celebration will take place on Monday, November 28 at 5:30 p.m. CT and is open to the public. The event will feature the King's Academy Children's Choir, the 129th Army Band and the annual Christmas tree lighting ceremony.
The Christmas tree will be donated by Joe and Suzie Barry of Nashville.
Guests are invited to bring donations to benefit the Tennessee Baptist Children's Home, including men's shampoo, conditioner and body wash.
Christmas Tours at the Tennessee Residence
Tennessee Residence tours will be open to guests on December 2-4 and December 8-11. The theme for the Christmas décor, "The Gift of Giving," will highlight the various ways Tennesseans use their time and talents to give to others. All tours are self-guided, free to the public and require a reservation.
Tour guests are encouraged to support five featured Tennessee nonprofits by donating requested items, which can be found below.
In addition to these opportunities to give back this holiday season, the first lady will announce a statewide giving campaign later this month.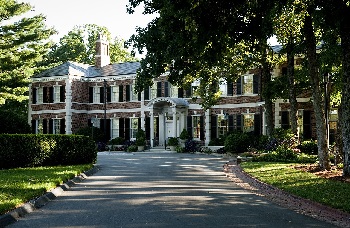 Tennessee Residence
The First Lady's initiative, Tennessee Serves, works to mobilize Tennesseans to serve their neighbors and highlight nonprofits doing transformative work across the state. In partnership with Tennessee Serves, the Governor and First Lady invite guests to participate in giving back during the holiday season by bringing requested items to support the work of five nonprofits across the state. The five nonprofits serve diverse groups of Tennesseans and represent each Grand Division.
Guests are encouraged to bring items to donate from the nonprofits' lists provided below. Donated items will be collected at the start of each tour and placed under Christmas trees in Conservation Hall that have been decorated to represent each nonprofit.
Please note: Donations are NOT required to attend. Items should NOT be wrapped, and monetary donations CANNOT be accepted.
West Tennessee:
Mid-South Food Bank
Collected items will benefit families facing food insecurity
Canned tuna, chicken
Canned vegetables
Peanut butter
Rice
Instant potatoes
Macaroni & cheese
Soups
Birth Choice
Collected items will support pregnant women, mothers and babies in need
Baby toiletries
Baby towels
Pacifiers
Diapers, wipes
Bottles
Small hand-held toys and teethers
Infant onesies, pajamas, and socks sized 0-6 months
Maternity clothing
New pack n' plays
New infant car seats
Baby safety items: outlet covers, corner covers, cabinet door locks, etc.
Middle Tennessee:
My Friend's House
Collected items will benefit teenage boys in the foster care system
Toilet paper, paper towels
Paper plates, cups, plastic utensils
Men's shampoo, conditioner, body wash
Men's ethnic shampoo, conditioner, body wash
Men's deodorant
Antibacterial hand soap
Dawn or Palmolive dish soap
Laundry detergent
Twin bed sheets, mattress protectors
East Tennessee:
Mission of Hope
Collected items will serve low-income families and meet community needs in rural Appalachia
New adult clothing (coats, jeans, shirts, underwear, etc.)
New children's clothing (coats, jeans, shirts, underwear, etc.)
New toys/gifts for students in PreK- 8th grades ($15-$25 suggested value)
Boys and Girls Clubs of Chattanooga
Collected items will help empower students to succeed
Children's books for grades K-5
Holiday books for grades K-5
Headline photo courtesy of the Governor's Office.
Tennessee Residence photo courtesy of Rburnett.
-END-