Report by Koneika McKiddy
On Wednesday November 30, 2022, a stepmother in Paradise, Texas reported her stepdaughter missing. The stepmother, Lizzee Strand reported to law enforcement that she and seven-year-old Athena Strand had argued earlier, and the little girl was in her room. Around 5:30 PM, the family got a delivery from FedEx.
After the delivery, the stepmother reported going to Athena's bedroom and noticed the child missing. She said she searched for over an hour and called law enforcement.
Teams including the FBI, Texas Rangers and neighboring local police stations set out in search for seven-year-old Athena Strand the next evening. Search helicopters and thermal imaging was used in the search according to officials.
Wise County Sheriff Lane Akin said the child's body was found just southeast from the father's home. The Sheriff also announced they had a confession. FedEx driver, Thirty-seven-year-old Tanner Lynn Horner. According to arrest reports Tanner is from FT Worth, TX and is the man in custody.
FedEx released a statement about the tragedy saying, "Words cannot describe our shock and sorrow at the reports surrounding this tragic event,". They also stated they are fully cooperating with law enforcement in the matter and offer their thoughts to the family in this time. James Dwyer from the FBI stated they have digital evidence, though he did not mention at the time exactly what that evidence was.
Horner is being held on a 1.5-million-dollar bond. He is charged with Aggravated Kidnapping and Capital Murder of Person under Ten. Investigators believe Strand was killed within the first
hour after she was taken. As of Friday, no other details of the child's death have been released. Currently the investigation is ongoing.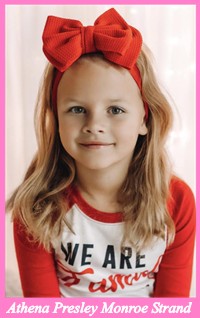 Athena's mother Maitlyn Gandy took to Facebook, "I want the world to know my baby, my first baby, my first true love, the reason I breathe. This is Athena (Facebook video), in our home in Oklahoma when she was three. I'm not sure why it popped up on my Facebook now... but I love my daughter beyond words, and I will always love her. I cannot describe the pain and absolute anger I feel. Missing her doesn't cover how I feel. My daughters name is Athena Presley Monroe Strand, which she would happily announce to anyone listening, and anyone not listening she would make listen. My princess was taken from me from a sick, cruel monster for absolutely no reason. Athena is innocent, beautiful, kind, intelligent, and just the brightest, happiest soul you could ever meet. I don't want her to be the girl known as the one murdered and discarded by a monster. I want everyone to know, every single person in this world, that this is my baby and my baby was taken from me. I want everyone to know her face and her voice and just how wonderful of a person she is." She said in a post with a video of the young girl from two years ago.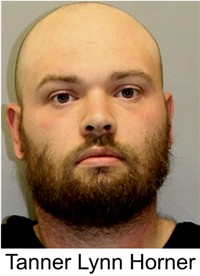 Who is Tanner Lynn Horner? He was a contract driver for FedEx. Authorities say he was an Uber driver off and on. His social media tells accusations of his supposed history with rape. Facebook post tells of a man who liked younger girls. Photos show a baby boy around a year old. A male individual who liked music. There are photos of him playing drums and performing vocals.
I contacted individuals posting and commenting on his social media pages. A simple message to offer the conversation. December 4, 2022, A man by the name of Charles replied saying no thank you.
He said he only knew Tanner as an acquaintance through playing music. From communications on Facebook, it seems many people knew him this way.
A lady I will call Katy responded as well. At first, she seemed offended by my contact. After explaining I only wanted all sides of the story, we spoke very briefly through Facebook messaging.
Katy advised she didn't want to tell her story at this time. She mentioned interest in speaking once justice was served for Athena and not until. However, Katy did refer to Tanner as "A man who raped me" during our conversation.
Lacey McKinney responded and was willing to speak with me. She knew Tanner Horner for many years growing up. Lacey said Tanner grew up being best friends with her brother.
Lacey said the last time she seen Tanner was about two years ago. He was getting ready to have a baby and doing good. She said she hasn't really had contact with him sense around 2019.
Before that, the last time Lacey recalls spending time with or around Tanner was between 2015 and 2018. Lacey said Tanner dated her cousin and the two would spend time with her children. Today her children are 14 and 9 years old. At that time, they were around the ages of 10 and 5.
Lacey said her family was in shock at the news. They don't condone the actions in any way. She said her family hopes that the family gets justice for Athena. But this doesn't remove their shock because they knew a different person.
When I ask Lacey what she thought about the accusations about Tanner on Facebook she replied, "I would have never thought it, but with what he has done now, they could be true". She said other than that statement she has no clue about the other ladies or their stories, so she is unable to comment on them.
I inquired about Tanners family and how he grew up. Lacey said her grandparents knew his grandparents. She said her brother met the family, but she never did. Lacey went on to say that Tanners mother wasn't in the picture as he was growing up. She said his grandmother Jackie and grandfather raised him.
On December 5, 2022, over 1000 bikers, jeeps and other vehicles showed up at The Church At Azle. They road through several neighboring towns and past the child's school wearing pink. There were pink flags flying from bikes, pink shirts, pink ribbon and even a pink car. They raised around $8,500 for Anthena's Justice funding and collected toys for the local Angel tree.
December 6, 2022, in Paradise held a candlelight vigil. People showed up wearing pink which was Athena's favorite color according to her mom. They lit candles and Maitlyn spoke to the public for the first time sense the tragedy.
With her hair dyed pink for her daughter and looking out into a sea of candlelight, Maitlyn said she wants people to "remember Athena Strand" and who she was.
If you would like to help the family of Athena Strand, listed below are ways to do so:
*Text "Give" to 940-400-0114
*Visit the church web site at First Baptist Cottondale church - select "Give".
*Mother Maitlyn has set up a GoFundme page if you wish to contribute simply click this title Athena's Justice