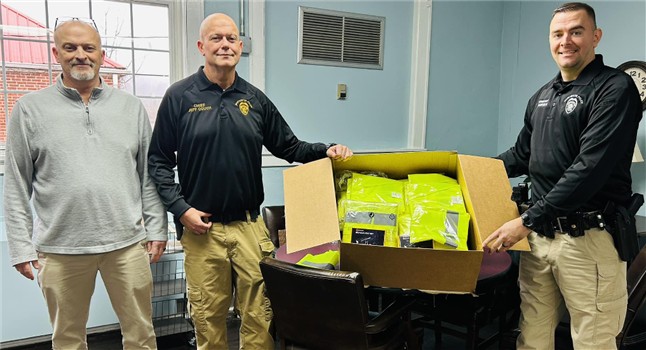 L to R: Manchester Mayor Steve Collins, MPD Chief Jeff Couch and Sgt. Jeremy Garrison
MANCHESTER, KY (February 17, 2023) - The Manchester Police Department is reporting via Facebook that Mayor Steve Collins, has given MPD new vests that will be kept in cruisers and handed out when encountering folks walking and/or riding a bike after dark without a vest.
According to the Manchester Police Department, "The vests have been donated by members in our community!"
This comes after, according to the Manchester Police Department's Facebook page, a new county wide ordinance went into effect for anyone out walking or riding to be seen in bright color or reflective gear.
ClaycoNews has no specifics here but since a press release regarding a new "COUNTY WIDE" ordinance was not afforded to ClayCoNews from neither office of the Clay County Judge Executive or the Manchester Mayor, nor have we received a copy of the new ordinance from any source, we can only assume, that since the "walking or riding" ordinance covers everyone county wide and if taken in context, would actually mean all citizens of Clay County, Kentucky including casual walkers, horse riders, bicycle riders, skateboarders, roller skaters etc.....??
Pictured is Manchester, Kentucky Mayor Steve Collins with MPD Chief Jeff Couch and Sgt. Jeremy Garrison.
Photo is from the Manchester Police Department.