WILLIAMSBURG, KY - The Whitley County Sheriff's Department is reporting that on Friday, February 24, 2023 and into the early morning hours of Saturday, The Whitley County Sheriff's Department, Williamsburg Police Department, and Kentucky State Police executed multiple Arrest Warrants on wanted individuals within Whitley County.
The arrests were made at the request of Ronnie Bowling and John Reynolds at the Commonwealth Attorney's Office.
According to the Whitley County Sheriffs Department, the arrested individuals had active warrants issued by Whitley Circuit Court.
The arrested individuals listed below are in no certain order in relation to the photos provided.
Edna Holt, age 42 of Williamsburg
Austin Epley, age 26 of Woodbine
James Bennett, age 49 of Bryant's Store KY
James Setser, age 38, of Rockholds
Temmy Denny, age 59, of Mount Vernon KY
Amos Croley, age 30, of Williamsburg
Spenser Toler, age 36, of Brodhead KY
Larry Tucker, age 35, of Corbin
Raymond Douglas, age 54, of Williamsburg
Emily Croley, age 28, of Williamsburg
Tina Hicks, age 45, of Williamsburg
Glenn Reid, age 59, of Rockholds
Elizabeth Bennett, age 23, of Corbin
Daniel Chansler, age 47, of Williamsburg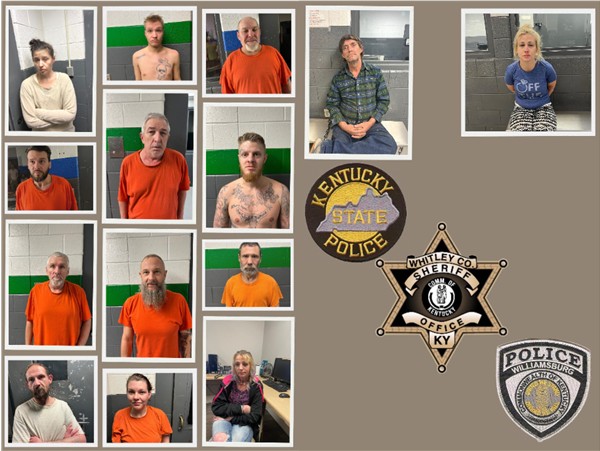 Suspects taken into custody on Arrest Warrants by Kentucky State Police, Whitley County Sheriff's Department and Williamsburg Police Department
Photos are from the Whitley County Sheriffs Department