FRANKFORT, KY (March 10, 2023) – Conservative OJ Oleka has announced that State Treasurer Allison Ball endorsed his campaign to succeed her in Frankfort. Treasurer Ball has twice been elected to statewide office, each time winning the most votes of any candidate up and down the ballot.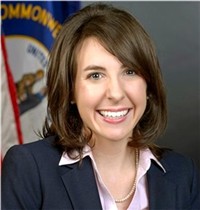 "I'm excited about OJ Oleka," said State Treasurer Allison Ball. "He knows all parts of the office and I encouraged him to run for the office. He's a Conservative, and he's a strong Christian. Those things are important to me, and we shared those values as we worked together. He knows how to do the job."
"I'm grateful to have Allison's endorsement and her friendship. In my view, she is the best Treasurer Kentucky has ever had. I was proud to be part of her team, and I look forward to building on her accomplishments," said Oleka, Republican candidate for Kentucky State Treasurer. "I look forward to bringing a new voice to the Treasurer's office as we protect our conservative values and fight for every Kentucky family."
Last week, Oleka was endorsed by Kentucky Right to Life Victory PAC for his strong leadership for pro-life values.
###