Senator McConnell helped secure the funding through his leadership on multiple pieces of legislation.
WASHINGTON, D.C. – U.S. Senate Republican Leader Mitch McConnell (R-KY) announced Tuesday the Department of Housing and Urban Development (HUD) will provide Eastern Kentucky communities with $297,994,000 through the Community Development Block Grant – Disaster Recovery (CDBG-DR) program.
Senator McConnell helped bring home the funding through his leadership on multiple pieces of legislation. Most recently, in the Fiscal Year 2023 government funding bill, the Senator helped secure an additional $3 billion in CDBG-DR funding for the country's hardest-hit communities. Senator McConnell was the only current member of the Kentucky delegation to support this legislation, which made the funding possible. In addition, as a senior member of the Senate Appropriations Committee, the Senator worked to secure funding for multiple federal programs that would support Eastern Kentucky's recovery efforts, including the CDBG-DR program.
These HUD long-term recovery funds will help Eastern Kentucky recover from last summer's devastating floods, which took more than 40 lives and damaged or destroyed thousands of homes and businesses. The following 20 counties are eligible to receive CDBG-DR funding: Breathitt, Casey, Clay, Cumberland, Floyd, Harlan, Johnson, Knott, Lee, Leslie, Letcher, Lincoln, Magoffin, Martin, Owsley, Perry, Pike, Powell, Whitley, and Wolfe. The Commonwealth of Kentucky will receive the funds initially and then determine grant amounts for individual communities.
The CDBG-DR program provides highly flexible funds for long-term recovery in communities affected by natural disasters. According to HUD, these funds can be used for a variety of purposes, including helping local governments cover their cost share of federal disaster recovery programs from other agencies, such as the Federal Emergency Management Agency (FEMA), the U.S. Army Corps of Engineers, the Environmental Protection Agency, and the Federal Highway Administration. Communities can also use these funds to address their unique housing needs and promote economic development.
"Federal funding is a crucial component to mitigating the destruction and uncertainty that ensues after a devastating flood. I was proud to leverage my leadership position in the Senate to help swiftly secure this funding so that Kentucky's communities and local governments have the resources they need to get back on their feet when disaster strikes our great state," said Senator McConnell.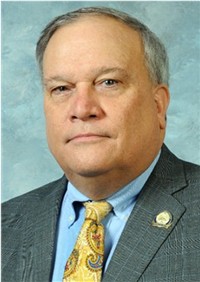 "These funds have significant meaning not just on the local level, but on a very personal one," said Kentucky Senate President Robert Stivers, R-Manchester (right). "This spending uniquely positions the commonwealth and specifically communities devastated by the 2022 floods for significant recovery. It gives local city leaders the autonomy to rebuild their communities in a deliberate, thoughtful way and will instill hope for families rebuilding the foundation of their lives. I so appreciate Leader McConnell's dedication to our Commonwealth in ways generations of Kentucky families will benefit from."
"Hundreds of homes were destroyed and thousands were damaged in our district during last July's catastrophic flooding. Consequently, we are generationally, physically, emotionally, and economically changed. I am thankful Senator McConnell kept his word and did not forget about Eastern Kentucky when he traveled back to D.C., using his leadership position to secure this significant infusion of federal funds. This funding is vital in addressing the housing crisis in Eastern Kentucky that was exacerbated by the floods and will deliver sorely-needed assistance for Kentuckian's rebuilding," said State Senator Brandon Smith, R-Hazard.
"Last summer, I was joined by Senator McConnell in surveying communities affected by July's catastrophic flooding, which took the lives of over 40 Kentuckians. This funding is crucial for the long-term recovery and regrowth of the City of Jackson, and I am thankful for Senator McConnell's leadership which made this significant federal investment possible," said Mayor of Jackson, Laura Thomas.
"This funding will make a real difference to many families in Eastern Kentucky who are still struggling to recover from the devasting floods this summer. We truly appreciate Senator McConnell's commitment to Eastern Kentucky and his hard work to bring these much-needed federal resources to our recovery efforts," said Scott McReynolds, Executive Director of Housing Development Alliance.
Senator McConnell has played a key role in helping Kentuckians affected by last year's flooding recover. Along with the rest of Kentucky's congressional delegation, the Senator supported the Governor's multiple federal disaster relief requests to the president and created a web portal to help Kentuckians access federal resources. The Senator's office has offered casework assistance to Kentuckians in need, connecting them with first responders and disaster aid agencies. The Senator also visited several flood-impacted communities to meet with survivors and, when he heard constituents were not receiving aid quickly enough, called senior Administration officials to advocate for expedited assistance.
###
AUGUST OF 2022:
Senator Mitch McConnell Visits Flood-Damaged Eastern Kentucky