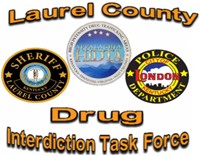 LONDON, KY (April 1, 2023) - Laurel County Sheriff John Root and London City Police Chief Chuck Johnson announce that: The Laurel County "Drug Interdiction Task Force" case began on Monday, March 13, 2023 when interdiction officers approached a motel room after developing information that Joseph Baker was in the motel room with a large amount of THC products.
Joseph Alan Baker age 30 of Maple Grove School Road, London, KY was previously known to the officers as a dealer in THC products and Methamphetamine that was acquired via dark web internet transactions from California.
As officers attempted to gain entry, Baker jumped out a second story window and escaped. Officers recovered evidence inside the room.
Officers then developed intelligence that Baker had a package en route via USPS that likely contained additional drugs. Postal Inspectors were contacted and intercepted the package on Monday, March 13, 2023.
A K-9 inspected the package and alerted to the presence of narcotics odor. The package was searched and additional THC related items were seized.
On Wednesday, March 29, 2023 Joseph Baker was located at a local business and arrested on a probation violation warrant.
Baker consented to a search of his residence and additional THC products, Xanax, and firearms were seized.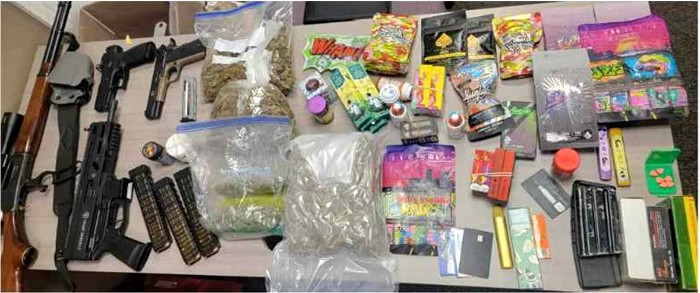 Weapons and contraband seized during the "Drug Interdiction Task Force" investigation
Joseph Baker was charged with:
Trafficking in a controlled substance – third-degree
Trafficking in a controlled substance – first-degree – Methamphetamine
Persistent felony possession of a firearm
Trafficking in legend drug - first offense
Criminal possession of a forged instrument
Trafficking Marijuana
This individual was lodged in the Laurel County Correctional Center.
Photo of the accused is courtesy of the Laurel County Correctional Center.
Photo of seized contraband from the Laurel County Sheriff's Office.
__________
Link to previous report related to Joseph Alan Baker: Mount Vernon man found with drug paraphernalia during investigation at traffic stop in Laurel County, Ky.