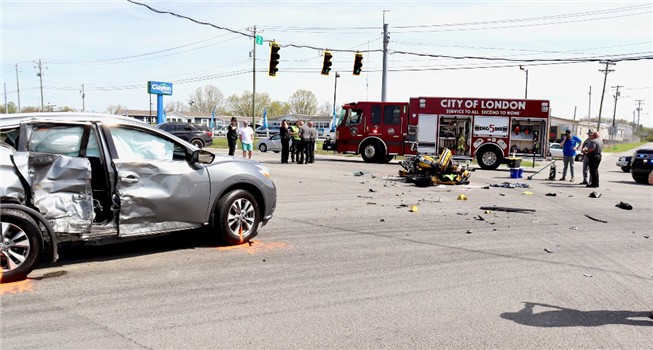 LONDON, KY - The London Police Department (LPD) is reporting that the intersection of Hal Rogers Parkway and KY 30 was closed for several hours Thursday afternoon while the LPD investigated a serious injury crash that occurred at 2:54 P.M. involving a car and motorcycle.
The preliminary investigation indicates that a 2017 Nissan SUV, driven by Joan Gill, 70, of Annville, turned into the path of a 2008 Harley Davidson motorcycle driven by Jeramy Thompson, 50, of Whitley City.
Thompson was traveling westbound on the parkway. Gill was traveling eastbound on the parkway and attempting to turn onto KY 30.
The impact threw Thompson from the motorcycle. He suffered serious injuries and was flown from the scene by PHI Air Ambulance to the University Kentucky Medical Center.
Gill was taken to the St. Joseph Hospital in London.
Lt. Ryan Jackson and Ofc. Hobie Daugherty of the London Police Department are conducting the investigation.
The LPD also was assisted by accident reconstruction investigator Brad Mink from the Laurel County Sheriff's Office.
Also on scene was the City of London Fire Department, the London-Laurel County Rescue Squad and Ambulance Inc.