HOLBROOK, AZ - The Arizona Department of Public Safety is reporting that AZDPS State Troopers and Navajo County Sheriff's Office (NCSO) Deputies worked together to stop and apprehend a homicide suspect traveling from New Mexico into Arizona on Monday, April 17, 2023.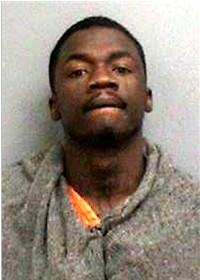 The suspect, Tawann Richardson, 23, was the subject of an active homicide warrant out of Oklahoma and a felony parole violation warrant out of Texas.
On Monday afternoon, Monday, April 17, AZDPS was notified Richardson was believed to be traveling westbound on Interstate 40 in a black Toyota Camry with Oklahoma license plates.
Dispatchers relayed the information to troopers in the area, and troopers observed the suspect vehicle traveling westbound on Interstate 40 in Holbrook at approximately 3:40 p.m.
A trooper initiated a traffic stop on the suspect vehicle, but the suspect continued driving westbound and a pursuit ensued. NCSO deputies successfully deployed tire deflation devices, and Richardson eventually lost control of the vehicle and came to a stop in the median near milepost 271.
Troopers took Richardson and a female passenger into custody without further incident.
Richardson was booked into the Navajo County Jail on the outstanding warrants and also faces a felony charge of:
Unlawful flight from law enforcement