LONDON, KY - The London Police Department (LPD) is reporting that LPD Officers confiscated Heroin and a large amount of cash while arresting two men at a local motel on Sunday, May 7, 2023.
According to Officer Messer's report, officers were dispatched to the motel to investigate two male subjects possibly intoxicated.
Once on scene, Officers observed an individual later identified as Austin Blake Wagoner, 27, of Richmond Ave, Nicholasville, KY staggering through the motel parking lot. He then got into a car and started to drive away, but stopped when he reached the officers.
Outside the vehicle, the subject struggled to keep his head up and his eyes open, he failed several field sobriety tests and when the officers asked what he had taken, he said he had "Roxys" in his pocket, as well as some "H."
Officers located a clear container with five oxycodone pills inside and a clear baggie with a fine brown substance believed to be Heroin. A large amount of U.S. currency in mixed bills also was found in his pocket. The contraband and cash were seized.
The suspect determined to be Austin Blake Wagoner was arrested at 2:07 P.M. by Officer Dylan Messer, assisted by Officer Jamie Etherton and Officer Wade Mitchell.
Austin Wagoner was charged with:
Trafficking in a controlled substance (Heroin)
Possession of a controlled substance
Operating a motor vehicle under the influence
Driving on a DUI suspended license
Giving officers false identifying information and other traffic charges
Wagoner gave officers the operator's license of a male subject with the same name.
Officers found Thomas L. Scott, 35, of Chappel Road, East Bernstadt, KY outside, indicating he was waiting on a friend. He was placed under arrest when a check with Laurel Dispatch produced three outstanding warrants.
Thomas Scott was charged with:
Three counts of failure to appear in Laurel County District Court
Both individuals were transported to and lodged in the Laurel County Correctional Center.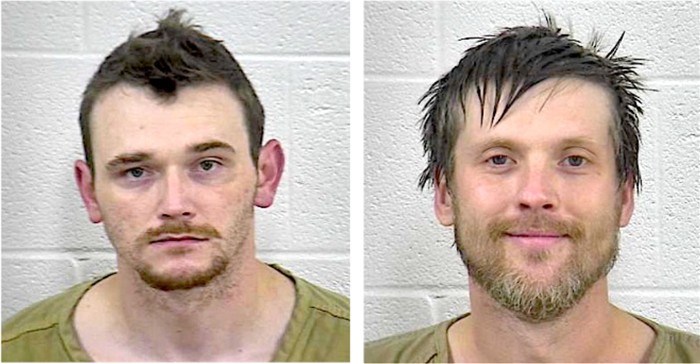 L to R: Austin Blake Wagoner and Thomas L. Scott
Mugshots are courtesy of the Laurel County Correctional Center.