BARBOURVILLE, KY – The Knox County Sheriff's Department is reporting that on April, 27, 2023 Knox County Deputies arrested Teresa A. Black age 40 of Corbin, KY on an FTA Warrant.
Black was arrested on a Knox County Arrest Warrant for a drug court violation on a Possession of Controlled Substance-2nd Degree charge.
During the arrest, Knox County Sheriff's Deputies located in her possession:
A plastic bag containing suspected Methamphetamine
Several Suboxone strips
An assortment of prescription tablets
A Marijuana cigarette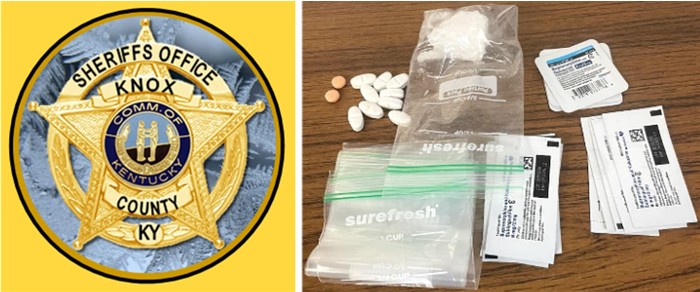 Contraband located and seized by Deputies - Photo credit: Knox County Sheriff's Department
Following the location and seizure of the drug assortment, Teresa Black was then charged with:
TRAFF. IN LEGEND DRUGS 1ST OFFENSE
TRAFF IN CONT SUB, 1ST DEGREE, 2ND OR > - (< 2 GMS METHAMPHETAMINE)
POSS CONT SUB, 2ND DEGREE - DRUG UNSPECIFIED
POSS OF MARIJUANA
This individual was transported to and lodged in the Knox County Detention Center where's she's being held on a CASH 5000.00 bond with an appearance in Circuit Court set for May 26, 2023 at 9:00 A.M.
Photo of the accused is courtesy of the Knox County Detention Center.