PINEVILLE, KY - The Bell County Sheriff's Department is reporting that on Wednesday, May 24, 2023, Bell County K-9 Sgt. Adam Southern was contacted by Middlesboro Police Captain Joe Holder stating that Officer Caleb Ayers had reported a complaint of a possible police impersonation incident.
The captain reported a tag number and description of the vehicle. He also advised that a man by the name of Randall Carnes of Pineville, KY was operating the vehicle that had just left Tractor Supply after the incident occurred.
While Sgt. Southern was patrolling the area he saw a vehicle matching the description traveling northbound on Highway 25E.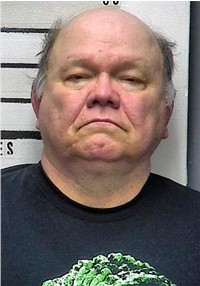 The Sergeant turned and followed the vehicle initiating a traffic stop near the Bell County Solid Waste transfer station.
Upon contact, Randall Carnes told Sgt. Southern that he had just left Tractor Supply and was headed home.
Carnes was asked if he had shown a badge to anyone or had warned them about a traffic violation they committed.
Mr. Carnes told Sgt. Southern that he had followed a vehicle in the parking lot of the store, walked up to the occupants after they parked and told them they had bald tires on their vehicle and also needed to fix a tail light.
Carnes also stated he flashed the badge because he "didn't want to get shot" and was just trying to be nice and let them know.
Randall Carnes was found to be in possession of a 1990s Bell County Sheriff's Office badge in pristine condition and a snub-nosed .38 Special revolver concealed in a towel in the passenger side floorboard.
Carnes also stated that the badge was given to his father and had been passed down to him when his father died.
It was determined that the father was never a sworn officer with the department and that Randall Carnes unlawfully represented the Bell County Sheriff's Office with the intention to induce another to submit to false authority.
Randall Carnes age 62 was arrested and lodged in the Bell County Detention Center charged with:
Impersonating a peace officer
Photo of the accused is courtesy of the Bell County Detention Center.
Assistance provided by Chief Deputy Jared Smith, Deputies Austin Poindexter, Jody Risner, Rick Dorton, Middlesboro Capt. Joe Holder and Officer Caleb Ayers.
The Sheriff's Department thanks the Middlesboro Police Department for the cooperative efforts in bringing this incident to light ending in an arrest.