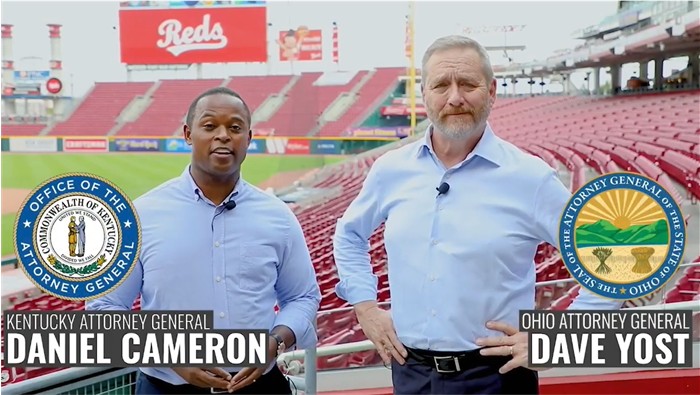 Kentucky Attorney General Daniel Cameron and Ohio Attorney General Dave Yost
FRANKFORT, KY – For a third straight season, Attorney General Daniel Cameron and Ohio Attorney General Dave Yost are teaming with the Cincinnati Reds to raise awareness of human trafficking. The attorneys general collaborated with Cincinnati's hometown heroes to record a public service announcement (PSA) explaining the signs of sex and labor trafficking and urging those who suspect a problem to report it immediately.
"We know that human trafficking is happening on both sides of the Ohio River, and it will take all of us working together to end this scourge," said Attorney General Daniel Cameron. "We're proud to be in the same dugout as General Yost in this fight."
This PSA began running Tuesday night at Great American Ball Park, where it will remain as part of the pre-game rotation during homestands this season
Great American continues to provide a unique opportunity to engage both Ohio and Kentucky residents in the fight to eradicate human trafficking.
"Human trafficking knows no borders, and the criminals pushing this modern-day form of slavery don't play by the rules," Yost said. "With AG Cameron and the Reds, I'm proud to show Ohioans, Kentuckians and sports fans everywhere that we're all on the same team in this battle to end human trafficking."
According to the Polaris Project, there were more than 16,500 trafficking victims and survivors nationwide in 2021, the latest year for which data is available.
This is Attorney General Cameron's latest effort to address human trafficking in the Commonwealth.
In 2021, the "Your Eyes Save Lives" campaign encouraged Kentuckians to recognize and report the signs of human trafficking. And earlier this month, Attorney General Cameron announced a statewide missing child awareness campaign titled "It Saves to Know," which will mobilize Kentuckians to recognize the signs that a child may be considering running away.
If you suspect you have witnessed a case of trafficking, call local law enforcement. To learn more about Attorney General Cameron's commitment to fighting human trafficking in the Commonwealth, click here.
###