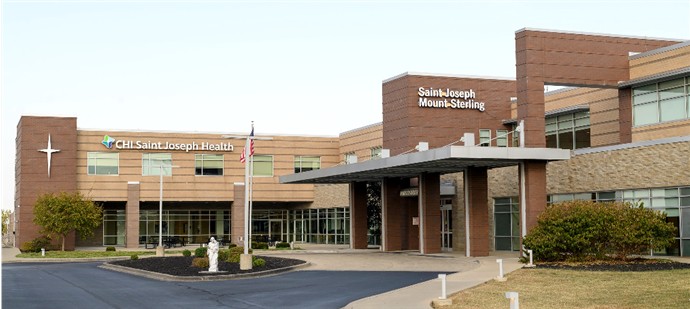 MOUNT STERLING, KY – Each June, Men's Health Month is recognized nationally – a time when men are encouraged to take charge of their health and address preventable health concerns. During this awareness month, CHI Saint Joseph Health urges men in the Commonwealth to look at a serious condition more likely to impact males – sleep apnea.
Obstructive sleep apnea, the most common type of sleep apnea, is when someone stops breathing for more than 10 seconds while sleeping. This results in lower blood oxygen levels, which can cause frequent awakenings at night, leading to drowsiness during the day. Sleep apnea can have a tremendous impact and can also be very dangerous, as the condition can lead to life-threatening conditions like heart damage or heart failure.
Men are more likely to experience sleep apnea than women, which can be due to many reasons, including the anatomy of male airways, breathing control, and hormones, among other factors. In fact, the Mayo Clinic reports men are two to three times more likely to have this condition than women.
"Proper sleep is vital to overall health and well-being," said Pell Ann Wardrop, MD, medical director, CHI Saint Joseph Health – Sleep Care Center at Saint Joseph East. "How we sleep profoundly impacts our productivity, interaction with others, and overall quality of life. As sleep problems compound, it can put added pressure on a person's heart, which is dangerous. So we encourage men to take note of sleep problems and let their primary care provider know so they can get the help they need to improve sleep and reduce potential serious health issues."
To some, the condition may seem like a minor annoyance, but this medical issue can have devastating health consequences, impacting daily performance, relationships and overall well-being. This condition can be the culprit for excessive daytime sleepiness, but the long-term problems go much deeper and can become life-threatening if overlooked and left untreated, including increasing the risk for heart attacks, heart failure, stroke, coronary artery disease, diabetes, reflux and depression.
"Excessive sleepiness is your first clue to seek help," said Dr. Wardrop. "Has your spouse or partner complained about your loud snoring? Do you find yourself waking up several times a night? If your answer is yes, it's time to address your sleep quality in search of leading a healthier and happier life."
During Men's Health Month, it's important that men take steps to improve their overall health. Make an appointment for yourself or a loved one with a primary care provider to discuss the next steps and learn more about the benefits of visiting a sleep clinic. To find a health care provider near you, visit https://www.chisaintjosephhealth.org/find-a-provider/. To learn more about a CHI Saint Joseph Health – Sleep Care Center near you, visit https://www.chisaintjosephhealth.org/chi-saint-joseph-health/services/sleep-care.
About CHI Saint Joseph Health
CHI Saint Joseph Health, part of CommonSpirit Health, is one of the largest and most comprehensive health systems in the Commonwealth of Kentucky with 100 locations in 20 counties, including hospitals, physician groups, clinics, primary care centers, specialty institutes, home health agencies and an ambulatory care center. The hospitals in CHI Saint Joseph Health are Flaget Memorial Hospital, Saint Joseph Berea, Saint Joseph East, Saint Joseph Hospital, Saint Joseph Jessamine, Saint Joseph London, Saint Joseph Mount Sterling, and Women's Hospital at Saint Joseph East. In total, the health system serves patients in 35 counties statewide. CHI Saint Joseph Health is dedicated to providing a wide array of services toward a goal of building a healthier future for all. CHI Saint Joseph Health embodies a strong mission and faith-based heritage and works through local partnerships to expand access to care in the communities it serves.
###