Hendricks, County, IN - The Indiana State Police (ISP) is reporting that two individuals were arrested and incarcerated in the Hendricks County Jail early Thursday morning in connection with the incident Wednesday evening June 28, 2023 on the Ronald Reagan Parkway which claimed the life of Indiana State Police Trooper Aaron N. Smith.
Eddie P. Jones, Jr., 18 years of age from Sikeston, Missouri, who was driving the stolen 2016 Chevrolet Traverse has been preliminarily charged with:
The adult passenger, DeMareon L. Curry, 19 years of age from Sikeston, Missouri has been preliminarily charged with:
Auto Theft, a Level 5 Felony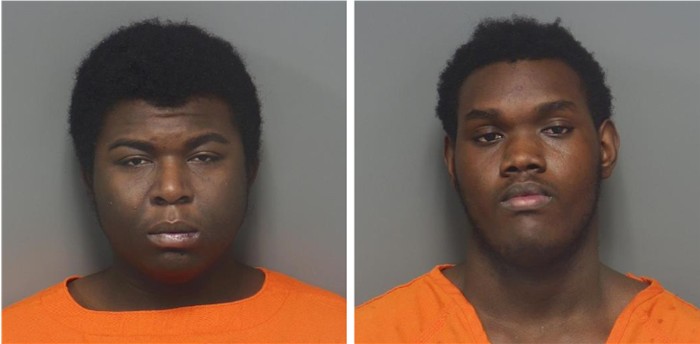 L to R: Eddie P. Jones, Jr. and DeMareon L. Curry
A 15-year-old female, who was listed as a missing person from Missouri will be turned over to authorities from that state. She is not being charged in connection with this incident.
As this investigation continues to move forward, the Hendricks County Prosecutor will make the final determination of these preliminary charges and will review the potential for additional criminal charges.
At this time there is no additional information for release.
The original press release is below:
Indiana State Police Trooper Struck and Killed During Pursuit in Hendricks County
(Hendricks County, IN)- The Indiana State Police is mourning the loss of one of its own tonight as a result of a vehicle crash incident which occurred this afternoon on Ronald Reagan Parkway, north of I-70. The crash claimed the life of Trooper Aaron N. Smith, 33 years of age from Franklin, IN, who served with the Indiana State Police for nearly five years.
The preliminary investigation by the Indiana State Police indicates that at approximately 8:40 p.m. this evening, Trooper Smith was assisting other troopers on Ronald Reagan Parkway with a pursuit of a stolen vehicle.
Trooper Smith attempted to de-escalate that vehicle pursuit by deploying stop sticks. Trooper Smith was struck by the suspect vehicle and critically injured. Emergency medical care was rendered at the scene, and he was rushed to Eskenazi Hospital, where he succumbed to his injuries.
Trooper Smith is survived by his wife. Family notifications have been made.
"This is a tremendously sad day for the entire Indiana State Police family. We will band together as we always do in support of Trooper Smith's family, friends and co-workers", said Indiana State Police Superintendent Douglas G. Carter.
The suspect driver involved in this incident, along with an adult and juvenile passenger were all transported to Indianapolis hospitals for treatment of non-life-threatening injuries.
This is still an ongoing investigation. All findings will be turned over to the Hendricks County Prosecutor for review and determination of any further charges that may be filed.
The Indiana State Police was assisted at the scene by the Plainfield Police Department, Indianapolis Metropolitan Police Department, Plainfield Fire Department, and Troopers from neighboring Indiana State Police Putnamville Post.
No additional information is available for release at this time.