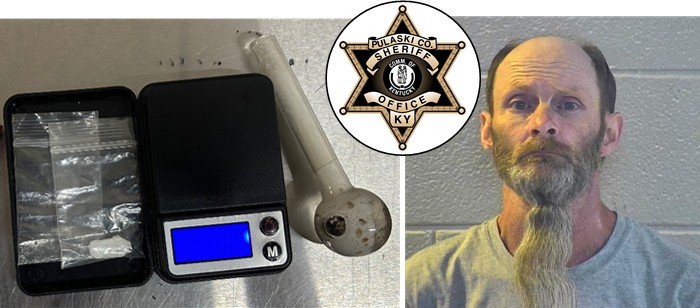 SOMERSET, KY - According to the Pulaski County Sheriff's Office, Sheriff Bobby Jones is reporting that: On Tuesday, June 20, 2023, a Pulaski County man was arrested following a short pursuit.
The incident began when the Pulaski County Narcotics Division and the Lake Cumberland Area Drug Task Force were conducting surveillance on suspected drug traffickers.
While traveling on Highway 27, Detective Tan Hudson observed a Kia Soul operating at a high rate of speed, driving erratically.
Detective Hudson activated his equipment to conduct a traffic stop at Highway 27 and Highway 914. The vehicle turned East bound on Highway 914, failing to stop or signal.
The vehicle turned left onto Pisgah Church connector. The vehicle continued onto Pisgah Church Road and then onto Old Monticello Road. The vehicle continued to a residence on Monticello Road.
Detectives ordered the driver from the vehicle at the residence. The driver was identified as Joshua Prater, age 46, of Somerset.
A search of the vehicle uncovered:
A small amount of Methamphetamine
Digital scales
A glass smoking pipe
Prater was discovered to have a suspended driver's license.
Joshua Prater was arrested on the scene and charged with the following:
1. Failure to or Improper Signal
2. Reckless Driving
3. Fleeing or Evading Police, 2nd Degree (Motor Vehicle)
4. Possession of Controlled Substance 1st Degree 1st Offense (Methamphetamine)
5. Drug Paraphernalia
6. Operating on Suspended or Revoked Operator's License
7. Reckless Driving
8. Improper Passing
Prater was transported and lodged at the Pulaski County Detention Center.
Photos are from the Pulaski County Sheriff's Office.
The case remains under investigation by Detective Tan Hudson of the Pulaski County Sheriff's Office Narcotics Division.
The Pulaski County Narcotics Division was assisted in the investigation by the Lake Cumberland Area Drug Task Force.
Sheriff Bobby Jones asks if you have any information about drug activity or any crime to contact our tip line at 606-679-8477. You can remain anonymous. You can also leave a tip on our webpage at http://www.pulaskisheriff.com.